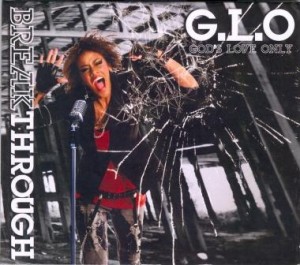 G.L.O.
Breakthrough
Narrow Path Records (2010)
www.myspace.com/godsloveonly
San Antonio's Kim Ruiz, aka G.L.O. (God's Love Only), is a rarity: a female Christian hip hop solo artist. Even rarer: this female Christian hip hop solo artist is already on her third CD, Breakthrough.
To a soundtrack of pounding industrial beats, Breakthrough features memorable, sing-song choruses with body-jerking repetition. G.L.O. is a rapid fire rapper with plenty of fashion style who stuffs more syllables into a beat than what seems possible. She sings, too, but where her singing voice is sweet and vulnerable, her rhyming is fierce and uncompromising.
Christian hip hop projects are often centered on gritty testimonies of being saved from the mean streets, but on Breakthrough, G.L.O. eschews the backstory and gets right to the point. She preaches and teaches as if her testimony is a given.
That is not to say that G.L.O. doesn't have a testimony. Her life changed in 1998 when, after having written 250 secular songs, she heard a voice in Bible study that said to her, "You can't have one foot in the World and one foot out." This principle is explicitly articulated in "7 Days" and "Lukewarm." On "7 Days," G.L.O. and guest artist Maurice Irons remind the listener that Christianity is not just for Sunday. "Lukewarm" posits that you have to plant both feet in the game to be saved.
One of the most interesting pieces on Breakthrough is the opener, "Who Is Like God?," where G.L.O. sings God's praises like an agent touting her latest champion prizefighter. Another highlight is "Unpopular," where G.L.O. mimics the squeaky OMG chatter of an in-crowd girl. She admits she is "hated" for Christ's sake, and she may never walk the red carpet as a result, but she loves it. It's "not about the bling, I'm about to glorify the Lord."
Breakthrough is praise and worship with a bite.
Four of Five Stars
gPod Picks: "Who is Like God?," "Unpopular."
Reviewed by Bob Marovich for The Black Gospel Blog.