Sponsored Post: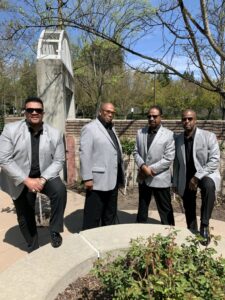 Gemstone Records Presents the Celestial Stars
Traditional gospel at its best
The Celestial Stars:
Organized in 1995, the original members were Lawrence Preston, mother Gwendolyn Williams, and father Lawrence Williams. Gwendolyn passed in 2009 and the group reorganized in October 2011. The group now consists of Lawrence Preston (also the bass player), his father Lawrence Williams, and cousins Barry Franklin and Richard Kinney.
The Celestial Stars are a group with a sound that bridges the richness and tradition of traditional gospel quartet music with contemporary gospel music. The blend is the product of songwriter and producer Lawrence Preston, inclusive of the R&B sounds that influenced him, such as Sly and The Family Stone, James Brown, Earth Wind and Fire, and Cameo, to name a few. The group's gospel music influences are the Pilgrim Jubilees, the Fantastic Violinaires, the Gospelaires led by the late Bob Washington, and The Highway QCs. The integration of these musical influences has given the Celestial Stars a unique and vibrant sound that is catching the attention of gospel and Christian audiences everywhere.
Onstage, the Stars give their audiences electric energized energy and excitement in every performance. The Celestial Stars are dedicated to giving their fans great stage performances.
San Francisco is known for the Bay, Fisherman's Wharf, and the iconic Golden Gate Bridge. Now it has a groundbreaking, exciting group to introduce to the world: the Celestial Stars.
Listen to their latest single, "Get Ready."
For more information on the band and for booking, please contact IBC Booking:
Mr. Karvin Johnson
312-479-3575 Direct Ln
kesmusic@aol.com
Info@kesnetwork.com