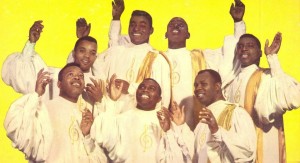 Thanks to Bob Laughton and Revs. Stefanie Minatee and Lawrence Roberts for alerting TBGB about this sad news:
Writes Rev. Minatee:
Just wanted to inform you that Gospel Music Legend, Leon Lumpkins, founder of The Gospel Clefs, passed away.
His wake is tomorrow (10/17) from 1-9pm at the Greater Abyssinian Baptist Church in Newark, NJ.
His funeral will be held on Thursday, October 18th at 11 am, at Greater Abyssinian.
——————————————————————————–
Here is Professor Lumpkins' obituary from the October 16, 2007 Star-Ledger:
LUMPKINS Leon Funeral home musical director, 73
Prof. Leon Lumpkins, 73, of East Orange died on Oct. 14, 2007. Services will be held on Thursday, Oct. 18, 2007, at 11 a.m. at the Greater Abyssinian Baptist Church, 88 Lyons Ave., Newark. Viewing is Wednesday, Oct. 17, 2007, from 1 to 9 p.m. at church. Interment is in Graceland Memorial Park, Kenilworth. Send condolences to perryfuneralhome.com.
Born on April 26, 1934, in Newark, Prof. Lumpkins lived in East Orange. He was the founder of the musical group The Gospel Clefs. He was also the musical director for Perry Funeral Home for over 20 years and for numerous churches in the Metropolitan area. Prof. Lumpkins leaves to mourn, a devoted son, DaRon Lumpkins; daughter-in-law, Rachel Lumpkins; two grandchildren, Arielle Lumpkins and Nile Lumpkins; one nephew, Keith Lumpkins, and a host of other relatives and friends.
———————————————————————————-
From TBGB:
During its long tenure, the Gospel Clefs of Newark, NJ recorded many songs that became gospel standards, including the smash hits "Wings of a Dove" and "Open Our Eyes." The latter was later covered by Earth Wind & Fire, and stands as one of the top gospel recordings of all time. Many of the Gospel Clefs' songs were composed by Leon Lumpkins, the founder, leader, and manager of the group. Professor Lumpkins will be sorely missed for his lyricism, creativity, and passion for gospel music.