Tune to 88.7 WLUW Chicago
Sunday morning, May 4
, from
3:00 to 7:30 a.m.
Central Time for this month's live broadcast of "Gospel Memories" – the soundtrack to That Old Time Religion.
Not in Chicago? No problem. Go to http://www.wluw.org/, click the Listen Live button, and enjoy "Gospel Memories" from wherever you are!


Highlights of the May 4 Broadcast:
"Gospel Memories" celebrates its seventh anniversary on the air with no theme other than great gospel music all morning long!
Benediction: "The Lord's Prayer" – Voices of Victory of Los Angeles (directed by gospel choir legend, the late Thurston Frazier)
Preacher Feature: "I Heard a Prayer" – by Rev. Elijah Thurston of the New Covenant M.B. Church, Chicago – one of Mahalia's favorite preachers! (Note: the disc you will hear once belonged to gospel legend and friend of Mahalia, Louise Overall Weaver).
Recordings by classic artists such as:
Pilgrim Jubilee Singers (early recordings, courtesy of Al Young)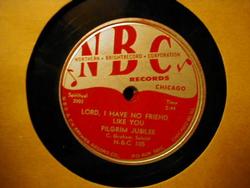 Edna Gallmon Cooke

Martin and Morris Singers

Alpha-Omega Singers
Brother John Sellers
Tabernacle Baptist Church Choir of Chicago
Simmons-Akers Trio
Nathaniel Cooper Gospel Choir (gorgeous!)
Sensational Nightingales

Jessy Dixon and the Chicago Community Choir
Hendrix Singers of Detroit
Rev. Frank L. McSwain & McSwain Singers (incredible!)
Supreme Angels Singers (feat. Howard "Slim" Hunt)
Spiritual Five
…and much more!
So tune in and turn on to "Gospel Memories"…for music that moves you and makes you move.