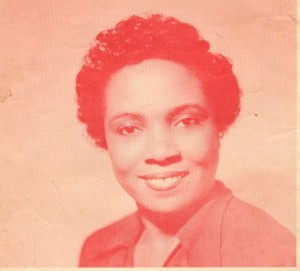 Hello, gospel music mavens — the next live broadcast of "Gospel Memories" will be this Sunday, February 4 from 3:00 to 7:30 a.m. Central Time US on Chicago's WLUW 88.7. Listen live anywhere in the world via the real-time webcast at www.wluw.org.
Highlights of the February 4 Broadcast:
— February 2007 marks the 100th birthday of Roberta Evelyn Martin (photo above). Roberta organized the original Roberta Martin Singers from a group of teenagers in Ebenezer MB Church's junior chorus. Her songwriting, arranging and piano genius created a graceful, dignified ensemble sound that literally transformed the genre. Each of the Roberta Martin Singers was a star in his or her own right. Roberta left this earth in 1969, but her legacy yet lives.
We'll feature original recordings of the Roberta Martin Singers from the 1940s, 1950s and 1960s as our way of saying "Happy Birthday, Roberta!"

— Conversation with Gayle F. Wald, author of the recently released Shout, Sister, Shout! The Untold Story of Rock-And-Roll Trailblazer Sister Rosetta Tharpe (Beacon Press). Wald has written the first-ever biography of the guitar-slinging songster who exploded out of the COGIC church and took the gospel — and RnB — world by storm. Listen to Professor Wald and hear original recordings by Sister Tharpe at 6:00 a.m.
— This week's opening "Lord's Prayer" comes to us from the First Church of Deliverance, Chicago, where Bishop Otto Houston, III is pastor. "The Lord's Prayer" is a new recording of former minister of music Julia Mae Kennedy's masterpiece arrangement of the Albert Hay Malotte version. In digital CD sound, this recording captures the bone-chilling sound of the FCD Choir in ways the old vinyl could never do.
— Before they were famous: a recording by Wallace Williams and the Howard University Gospel Choir, with then-student Richard Smallwood soloing; a 7 year-old Jimmy Moss — now J Moss — singing on his family's Bilesse label.
— An acetate of an unknown male artist from Ecorse, Michigan's Revival Records vault (courtesy of Rob Sevier)
— The return of "From the Vault," featuring Jessie May Hill (1927), Golden Eagle Gospel Singers (1940) and the Williams Jubilee Singers (1920s).
— Preacher Feature: Brother Esmond Patterson: "Wake Up Nation" (1965) – aired at 5 a.m.
— Plus music from legends and pioneers such as:
Vernon Oliver Price
Rev. Cleophus Robinson
Doris Akers
Bishop Clarence Haddon of Detroit
The Kelly Brothers
Rev. James L. Lofton and his Church of Our Prayer Choir
Harmonizing Four
Mass Choir – National Convention of Gospel Choirs and Choruses, feat. Sallie Martin (1981)
Silvertones of Cincinnati
James Cleveland and the Cleveland Singers
Edna Gallmon Cooke
Greater Metropolitan Church of Christ, feat. Doris Whitman
Heavenly Kings
Rev. Utah Smith
…and more!
So tune in and turn on to "Gospel Memories" — a lightning bolt of inspiration headed straight for your soul!