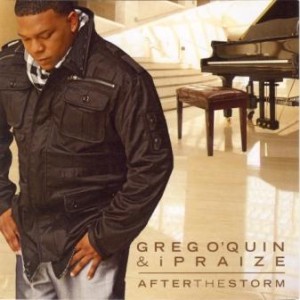 Greg O'Quin & iPraise
After the Storm
Pendulum Records 2009
www.pendulumrecords.biz
After an eight-year recording hiatus, Dallas-based Greg O'Quin, pastor and founder of The Church Without Walls International, is back with a new group and a new project, After the Storm, a sequel to his previous hit, "I Told the Storm."
O'Quin and iPraise are dynamite singers and After the Storm is a dynamite release. It hits right between the eyes with sharp, tight production courtesy of Pendulum Records CEO Ruben Rodriguez, an accomplished power choir and a bullpen of top-quality female lead singers who more than complement O'Quin's own smooth vocals.
While the lyrics are consistently prayerful and worshipful, the variety of music styles runs the gamut from praise and worship to RnB to contemporary, with a Mediterranean vibe on "Pray" and liberal use of Vocoder-enhanced vocals throughout the project. O'Quin's current hit single, a neo-traditional track called "Lead Me Jesus," is a congregational singalong that opens with a country-bluesy harmonica riff, all to a hand-clap beat reminiscent of label mate Regina Belle's 2008 hit "God is Good."
Besides "Lead Me Jesus," the album's other highlights include "Survivor" and "Breakthru." Both feature stunningly hard-singing lead work courtesy of P. Jacobs, who listeners will remember as the vocalist on "I Told the Storm." Both "Survivor" and "Breakthru" speak directly to today's issues of lost jobs, lost income and lost families. More than once the singers call for the listener to overcome today's economic meltdown, or at least to remain steadfast in faith and hopeful. The storm metaphor, ever-popular in gospel but even more so after the wake of Hurricane Katrina, is ever-present here.
Nelda Washington's fine lead on the opening choral outing "Convinced," and Nadia Washington's lovely lead to "iWorship" are additional highpoints. I cannot emphasize enough how the female leads on After the Storm are alone worth the listen.
Nods to popular music can also be found on the album. The group's cover of Bacharach-David's "I Say a Little Prayer" falls somewhere between Dionne Warwick's original recording and Aretha Franklin's souled-up version. Beyonce's "Crazy in Love" is interpolated in "Joy."
Needless to say, Greg O'Quin & iPraise – in synch with today's technology revolution in name and style – is back and destined for big things.
Five of Five Stars