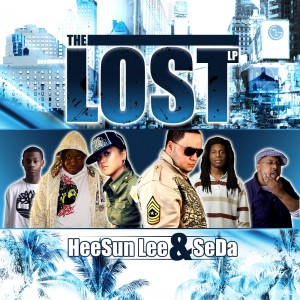 HeeSun Lee and SeDa
The Lost LP
JahRock'n Productions 2010
Available for download at http://jahrockn.bandcamp.com
Religion and science fiction/fantasy have been mates for several decades, thanks to groundbreaking, thought-provoking books by authors such as Robert Heinlein, C.S. Lewis, Arthur C. Clarke and Roger Zelazny.
Gospel music and science fiction/fantasy…well, not so much.
However, that has changed since NYC holy hip hop artists HeeSun Lee and SeDa joined forces with the JahRock'n Productions crew to produce an album based on ABC's hit television series, "Lost." To create The Lost LP, the team selected themes common to both the popular series and to life in general, and dipped them in techno-charged, digital urban music soundscapes and samples fronted by straight-talking, God-fearing rhyming.
The opening track, "I Don't Need That," puts the listener on notice about what is to come, as SeDa kicks prosperity theology to the curb, declaring that Jesus is enough for him, and "anything extra is a perk." The Lost LP covers the well-trodden themes of faith ("Give It To You") and redemption ("Fly Away"), but it also ponders love of one's self and others, and whether life is simply a series of random acts or something that gives purpose and control ("Set Free"). Heady stuff, perhaps, but HeeSun and SeDa break it down so that it feels like a Sunday afternoon conversation instead of a 400-level course in philosophy.
The album's finest selections are SeDa's plaintive "Give It To You," HeeSun's aggressively-energetic challenge to "Test Me," and the love song "Lost in You."
All of the selections hearken back to episodes, themes, and characters in "Lost" throughout its years-long successful run. Audio snippets from the television series and even variations on the show's musical theme are used throughout the project to provide the appropriate thematic context and mood. The album's thorough and fascinating booklet gives song-by-song explanations of the technical and artistic creativity that went into each track, including the specific "Lost" references. If you want to reap the project's full effect, read the booklet before listening.
Although "Lost" enthusiasts will more readily understand the album's references, those of us (including myself) who have never seen the program can still play along without getting…um…lost.
Four of Five Stars
gPod Picks: "Give It To You," "I Don't Need That," "Fly Away."
Review by Bob Marovich of The Black Gospel Blog