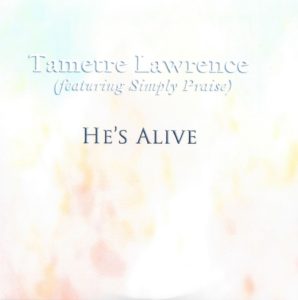 "He's Alive"
Tametre Lawrence (featuring Simply Praise)
From the EP He's Alive (release date: May 2020)
By Bob Marovich
A dramatic piano introduction slips into a mid-tempo Latin beat and stays there on "He's Alive," a Holy Week song that compares Jesus's rising from the dead to his living presence in Christian hearts.
The minor-key piece is performed by Nashville singer-songwriter Tametre Lawrence and the Simply Praise Choir. Shifting back and forth from unison singing to harmony, the group delivers the song with the nervous energy of a young adult choir and the austerity of a senior choir.
Of the other selections on the EP, "We Have Come," released originally in 2016, is a bouncy and uncomplicated praise song with "More Abundantly"-like cascading section work (the choir even manages to sneak its name in the lyrics). Here, Tametre directs the proceedings as much as sings. "Don't Give Up on Christ," from 2017, is the EP's churchiest selection.