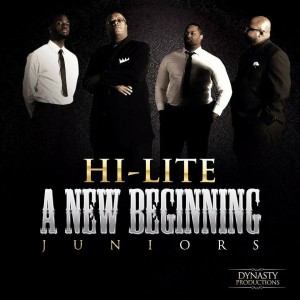 Hi-Lite Juniors
A New Beginning
Dynasty Productions 2015
https://www.facebook.com/Hilitejuniors/
By Bob Marovich
Back in the day, "Junior" quartets were the next generation of singers to come up under the tutelage of a more senior group. Thus, the Seven Star Juniors were the younger proteges of the Seven Stars quartet, and so on.
So it is with the Hi-Lite Juniors of Paterson, New Jersey. The quartet was formed in the early 1970s by Milbert "Doc" McKenzie, uncle of the Juniors' lead singer, Eric McKenzie. Working within the contemporary-traditional blend of Doc's Gospel Hi-Lites, the Hi-Lite Juniors—now grown men—offer ten selections on their latest album, A New Beginning.
The quartet's meaty voices, shouting leads, and traditional lyric content, full of classic gospel couplets, are given the contemporary treatment of smooth synth, thumping bass guitar, and treble harmonies.
No new age theology here: no atmosphere, no rain, no vessels, no vertical praise. The majority of the songs on A New Beginning are laden with plaudits, plain and simple, for one blessing or another; a report of being cancer-free after a 2003 diagnosis comes up at least three times during the album. Other topics include a pulpit-ready warning to prepare for the end days ("Get It Together"). The group offers up the "HLJ Prayer," which hearkens back to when quartets had their own prayers and theme songs.
The album's two strongest tracks are the drive-tempo hand clappers "Thank You" and "He'll Answer Prayer." The latter opens with a lyric riff on "Do You Know Him," and is more vamp than song. That is a good thing, as it usually is with drive-tempo quartet selections. An electric guitar fills the space between lines with blues curlicues made popular by 1960s quartets.
The Hi-Lite Juniors may hail from the Garden State, but their sound and style has more in common with their peers south of the Mason-Dixon Line.
Three of Five Stars
Picks: "He'll Answer Prayer," "Thank You."