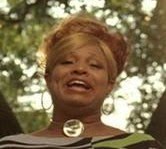 "Holy to the Lamb"
Genita Pugh
Eternity Records Company
vids.myspace.com/genitapugh
Gospel singer Genita Pugh ("You Made it Possible") delivers a flawless performance on "Holy to the Lamb," a simple, traditional piece arranged in a "rocking chair" waltz tempo. The background voices provide a suitably strong foundation for Genita's straightforward vocals, especially during the dramatic and beautiful conclusion.
Just goes to show that in gospel music, less can definitely be more.