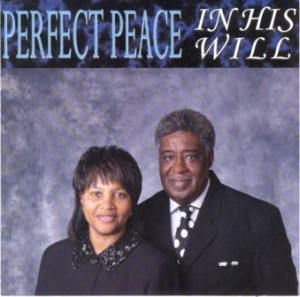 Perfect Peace
In His Will
Church House Music 2007
www.perfectpeaceministry.com
Husband-and-wife team Lee and Ruth Burns of Alexander City, Alabama continue to spread country church goodwill whenever they perform as "Perfect Peace." Proof of this is evident throughout In His Will, the duo's follow-up to its 2006 firecracker Jesus is a Sure Thing.
Regardless of whether the ten songs on In His Will were culled from hymnbooks or are new compositions, they all have that good old Baptist sing-along quality: simple melodies and repetitive, easily remembered verses. The best moments on the CD are when Lee and Ruth harmonize with background vocalists Shane Roark and Sharon Terrell on congregational favorites such as "Blessed Be the Wonderful Name of Jesus" and "I'm Going Home on the Morning Train." "Morning Train" incorporates familiar lyrics from other gospel songs, giving it a true congregational feel.
The concept of "Drinking from a Saucer" is clever ("I'm drinking from my saucer, 'cause my cup has overflowed") and on top of that, it is given a decidedly country treatment courtesy of a prominent steel guitar. The background musicians, by the way, seem to be having a great time as they go for broke on most all of the tracks, ending many with a rock-and-roll style flourish.
The quartet-styled "Get High on Jesus" riffs on the "Jesus is the best drug" theme with an admonitory lecture and infectious chorus ("If you want to get high, high, high, just do it on Jesus").
The final track, "I Don't Know Why Jesus Loves Me" captures the essence of good duet singing. It does it so well, in fact, that it should have been the opening track instead of the gospelized version of Kris Kristofferson's "Help Me Make It Through the Night."
While not as strong as Jesus is a Sure Thing, In His Will is nevertheless a nostalgic tribute to the songs people used to sing "back in the country, when people had church."
Two and a Half of Four Stars