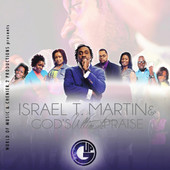 Israel T. Martin & God's Ultimate Praise
We Bless Your Name (EP)
Power Move Management (2012)
By Bob Marovich for The Black Gospel Blog.
Israel Martin and his ten-member P&W ensemble God's Ultimate Praise, or G.U.P., has released a promo EP,
We Bless Your Name
, showcasing three of their new songs.
The group is young, both in age and provenance, having formed in 2009, though Martin has served as musician for top-shelf gospel artists such as VaShawn Mitchell and Myron Butler. G.U.P.'s stock-in-trade is the male-led choir that has dominated the gospel music scene for the past twenty or so years.
"Set Me Free" is the EP's featured single. To a deliberate, funky groove, the group expresses its gratitude for being set free from destructive habits, while Martin punctuates the proceedings with declarations, a la James Fortune. "We Sing Praises" is a call-and-response piece that ends with seriously sanctified singing from a female member.
The title track is the EP's strongest selection because it is dominated by a whirlwind of complex chord changes that support the group's powerful vocals and polished harmonies. No doubt Martin's background as a keyboardist fueled the jazzy arrangements.
What distinguishes Israel T. Martin & G.U.P. from other groups that perform in this style is the quality of the individual ensemble voices and their ability, as a unit, to maintain tight harmonies in the midst of thunderous volume. As they continue to venture forth, the group should identify and showcase the most distinctive soloists in the group and vary the energetic selections with slower, more passionate performances, even if written by other artists. In the leader-ensemble subgenre, variety is indeed the spice of life.
Three of Five Stars
Picks: "We Bless Your Name."