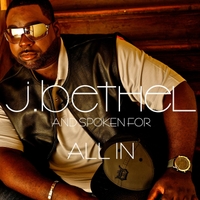 J. Bethel & Spoken For
All In
(independent release)
www.jbs4.co
By Bob Marovich
All in, indeed.
Frenetically rolling drums at the outset signify that the debut full-length release by Detroit gospel group J. Bethel & Spoken For is about to dazzle the listener with a proverbial kitchen sink's worth of instrumentation and a high-energy range of musical influences, from jazz to rock to contemporary gospel and even some funk (after all, Jason "J" Bethel Sr.'s uncle worked with Parliament Funkadelic).
The album leans heavy on the church truism that praise is the answer, especially during personal trials, as articulated on "I Gotta Praise in Me."  It also underscores hope and encouragement, notably on the title track and "We Walk By Faith," as well as "Who Told You," which cautions against taking heed of naysayers.
Only churches, gospel singers, and Russian novelists recognize the redemptive power of suffering, and with its reference to the Garden of Gethsemane, "Cup of Suffering" does just that.
The album is most notable, however, for introducing a wider audience to Nikki Stephens, a Spoken For member (and Jason's sister-in-law) who squalls her praise over the din on "Just Another Day." She even out-sings Sunday Best winner Tasha Page-Lockhart on "I Gotta Praise In Me." Not to take away from the other fine leads, but Stephens could have jumped in on every track and that would have been all right.
All In's writing is a family affair, with Jason Bethel writing alone or in collaboration with Gregory Bethel and Sabrina Bethel. A Jason and Gregory partnership provides one of the album's top selections: "Everything You Are," an enthralling duet between Stephens and Aubrey E. Swann Jr. that concludes in lovely two-part harmony.
Notwithstanding the gumbo of sound, the musical consistency of All In is in its complex arrangements and long riffs on short melody lines. "Praise on High" and "We Walk By Faith" possess the most urban grooves, while the mid-tempo title track employs insistent electronica to remind the listener, once more before closing, that trusting in God can "turn sorrows to success."  Ah, there's the healing power of suffering again.  Dostoevsky and Tolstoy, take note.
Four of Five Stars
Picks: "Everything You Are," "All In."