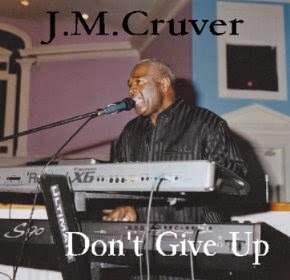 J. M. Cruver
All James Michael Cruver wants to do is sing a church song. He sings six, as a matter of fact, on his new Sharp Records EP, Don't Give Up.
Originally from Newnan, Georgia, where he is primary musician at Resurrection Baptist Church, Cruver plays piano, organ, and bass guitar. He writes music—all the songs on Don't Give Up are from his pen—and can arrange and produce, as well.
His singing is what is most striking. He appears to have two voices: a high falsetto and a growing baritone, a combo reminiscent of 1950s/1960s R&B recording artist Johnnie Morrisette.
Cruver puts his falsetto on display on the EP's opener, "He That Believes," a song based on John 3:16 and with smooth harmonies and an arrangement based on northern soul. "It's Me O Lord," which riffs on the spiritual "Standing in the Need of Prayer," is another selection steeped in the smooth major seventh chords of 1960s northern soul vocal groups.
On the other end of the music spectrum is "If You Trust in the Lord," which features Cruver's quartet-esque hard-shouting vocals and a steaming guitar solo. On "Sing a Church Song," Cruver performs a litany of snippets of traditional Zion songs to a mid-tempo blues.
Don't Give Up
is indie gospel grit and silk bound together with God's glue.
Pick: "He That Believes"