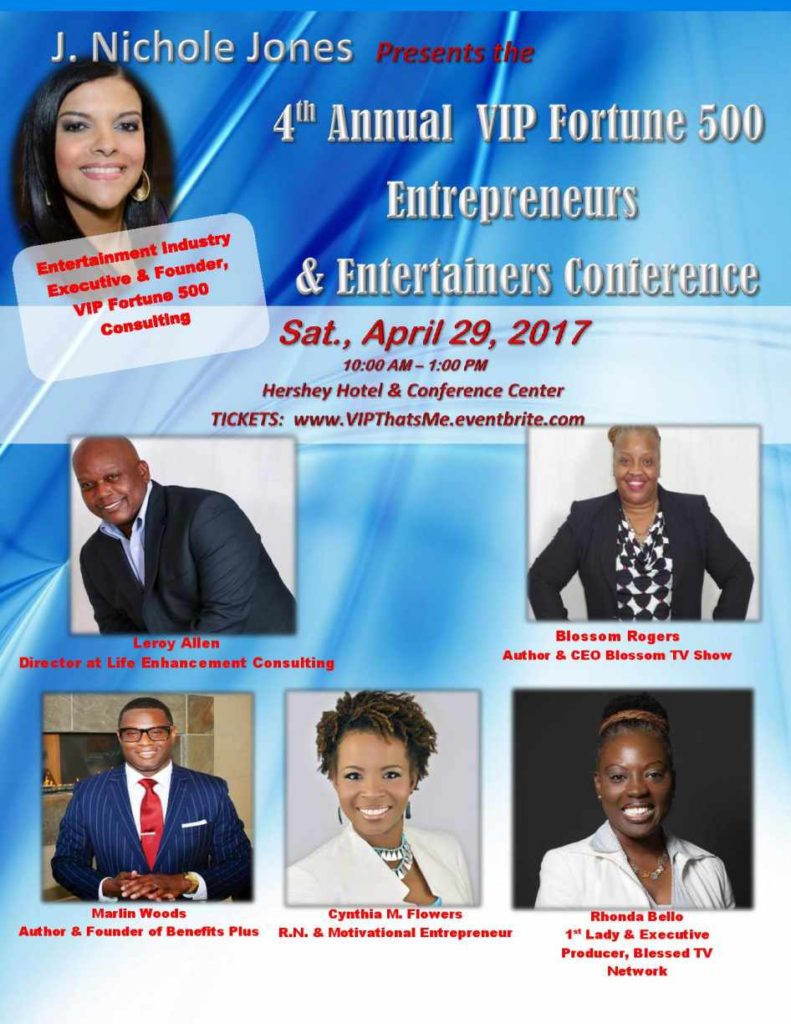 Sponsored Post:
J. Nichole Jones Presents the 4th Annual VIP Fortune 500 Entrepreneurs & Entertainers Conference
The conference, scheduled for Saturday, April 29, 2017, brings together a dynamic list of business entrepreneurs, authors, television and radio professionals that will provide the "5 Key Elements" for business success.
HARRISBURG, PA – March 1, 2017 – PRLog — The Harrisburg-based Motivational Entrepreneur, Co-Host at Fox Radio Harrisburg 1460AM and Founder/CEO of VIP Fortune 500 Events & Consulting, J. Nichole Jones is presenting the 4th Annual VIP Fortune 500 Entrepreneurs & Entertainers Conference on Saturday, April 29, 2017.
This action-oriented conference is specifically tailored to give entertainers, entrepreneurs and social influencers the knowledge needed to accelerate into their purpose, and embrace the confidence necessary to achieve profitability and sustainability in their businesses and careers. Hashtag for event: #VIPThatsMe
REGISTER TODAY by clicking on the poster above or at https://www.eventbrite.com/e/j-nichole-jones-presents-the-4th-annual-vip-fortune-500-entrepreneurs-entertainers-conference-tickets-30204216625.
Sponsorship Opportunities, contact VIPFortune500@yahoo.com
"During this conference, our goal is to empower attendees with the tools they need to develop winning business strategies," said Jones.
Jones and her world-class panelists will share their experience and expertise on a range of topics including entrepreneurship, increasing your client base, personal growth, career advancement, health and wellness and more.
This year's Conference theme "VIP That's Me" will encourage attendees to own the vision placed within them and embrace the 5 Key Elements of Success
Jones, co-host at Fox Radio Harrisburg 1460AM and Founder/CEO of VIP Fortune 500 Events & VIP Fortune 500 Consulting Firm, will serve as the conference host and emcee.
Hosting the Red Carpet is none other than CT Hailey, Motivational Coach and On-Air Host at 1460AM Echoes of Glory/iHeart Media. Special appearances from Motivational Entrepreneur and Spoken Word Artist, Tameca Brown and Charles Clark, publisher of Brotha Magaine.
Attendees will receive gift bags with an array of products from sponsors such as First National Bank, Fox Radio Harrisburg 1460AM/iHeart Media and more.There will also be live entertainment for guests to enjoy and networking opportunities with noted entrepreneurs, authors, actors and other entertainers.
Keynote Speaker: Leroy Allen, Founder of Life Enhancement Coaching Institute
Leroy Allen, a native of Baltimore Maryland, is a celebrated author, certified public speaker, radio and talk show host and a collaborative, solution focused life coach. Leroy has a growing passion for Servant Leadership and he is recognized as a resourceful leader who is committed to offering strong personal and professional growth and development opportunities to everyone who he come in contact with.
Leroy most recent accomplishment was the grand opening of the Life Enhancement Coaching Institute and the Life Enhancement Toastmasters Public Speaking and Leadership Club. Leroy's passion for economic development and empowering families has established him as a leader with a voice that has the ability to make and impact in the lives of people.
Spotlight Speaker: Blossom Rogers, Author & Host of "The Blossom Show" television show
Blossom Rogers is a native of New Smyrna Beach, Florida. She spent most of her life trying to get on the right track. "Many times in life we make our own decisions and become our worst enemy. We often begin to invest in the "I" theory, in which "I" is the beginning of every thought and is followed by the word "wanted", she said.
As a young mother, wife, drug addict and lost woman, Rogers soon discovered that this was not the journey to her best life. After destructive choices lead her to hit rock bottom – which included abandoning her husband and children – she sought God and eventually achieved a miraculous turn around. Today she has dedicates her life to empowering young women and using her books to tell her story, so that people may learn from her mistakes. Blossom Rogers is the CEO and Founder of From Under A Bridge Inc. She is the Author of three books, entitled, "From Under A Bridge I and II, and "And They Laughed". She is also the host of her own Christian TV Show, "The Blossom Show" on YouTube and on WEPH TV 49 in Mississippi, every Saturday evening at 10:00 PM CST. Blossom now resides in Tulsaloosa, Alabama.
Additional Panelists Include:
Marlin Woods, Author of "Courting the Employ(Her)" and Founder of Benefits Plus.
Cynthia M. Flowers, Registered Nurse and health-oriented family and lifestyle brand entrepreneur with Advocate Solutions Group.
Pastor Rhonda Bello, Author of "Women of Yesterday for Women of Today: Platinum Series I', Assistant Pastor at Holy Mountain International Ministries and co-founder of 'The Blessed TV/Radio Network'
This event is powered by:
Fox Radio Harrisburg 1460AM/iHeart Media
Single Mothers on the Go
Attorney Alphonso Arnold, Jr., Attorney at Law
Supporting Sponsors:
PA Women's Conference
WHP580AM Radio
VIP Fortune 500 Consulting Firm
ABOUT J. Nichole Jones
J. Nichole Jones (Juliet Nichole Jones), founder of VIP Fortune 500 Consulting Firm, is a certified human resource leader with a Master's degree in Business Administration. She is also an author, inspirational speaker, music artist, radio host and leadership expert, with over twenty years of professional business and music industry experience, Her company provides personal and business leadership coaching and empowers entrepreneurs and artists around the globe. For more information, contact VIPFortune500@yahoo.com. Learn more at https://www.vipfortune500consultingfirm.com/