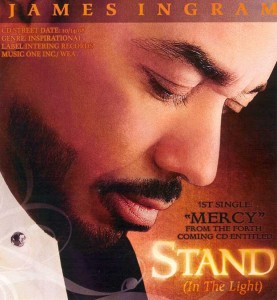 "Just Once." "One Hundred Ways." "Baby, Come to Me." "Somewhere Out There."
Unless you're Rip Van Winkle and slept through the Eighties and Nineties, chances are you've heard one or all of these songs by Grammy Award-winning balladeer James Ingram. Ingram's instantly recognizable crooning melts butter on contact.
On January 27, 2009, he will unveil his new project, an inspirational album called Stand (In the Light).
Earlier this week, James Ingram discussed the new project, and his music roots, with The Black Gospel Blog.
An "Accidental Singer"
Born in Akron, Ohio in 1956, Ingram traveled to Los Angeles in 1973 with a group called Revelation Funk. After about a year, the group broke up, but Ingram stayed on in L.A., establishing himself as a versatile session musician. He played drums, guitar, piano and organ for the likes of Ray Charles, Carl Carlton, Leon Haywood and Shalimar.
Later Ingram began singing demos at a studio on Sunset Boulevard for $50 per song. One of the songs he demoed was "Just Once." The studio gave the song to Quincy Jones, who wanted to know the name of the singer. Hearing that Ingram was Ray Charles' piano player and not a professional vocalist made no difference to Jones. He wanted the unknown singer's phone number anyway.
"So Quincy called me and I couldn't believe it," Ingram recalled. "I said, 'You don't want me to play on the song?' He said, 'No, I want you to come sing.' I said, 'You sure?'
"That was the first time someone of Quincy's stature approached me as a lead singer. I mean I could sing a little bit, but not to the degree to sing for Quincy."
In 1981, Jones talked the Grammy Awards show producers into replacing the usual high-energy song-and-dance segment at the opening of the broadcast with "Just Once," sung by James Ingram.
"So there I am, standing on stage at the Grammys, scared as I don't know what. I open my mouth and my words are trembling because I never stood and sang in front of anybody. But people started clapping, and I got through it. I went home, man, and I had nightmares that I had to live up to being a singer."
Ingram's "Just Once" and "One Hundred Ways" were included on Quincy Jones' album The Dude. For his contributions to the album, Ingram won a Grammy for Best R&B Vocal Performance.
"It was a blessing indeed. Bless-S-I-N-G. I didn't have any attitude about singing, didn't know I could sing! So in 1983, when I recorded my first solo album, when I had the chance, I gave God His due. I recorded 'Jah Mo B There,' which praises God by his Hebrew name. That was my concept, not Quincy's or Michael McDonald's."
But did you grow up singing in the church?
"I grew up in the Church of God in Christ in Akron, Ohio. I sang in church, but I wasn't a lead singer. I sang background because I had a choice of either sitting by my mother in church or being up in the choir where I could play and mess around!
"My father was a deacon and a Sunday School teacher. My older brother Henry, who is six years older than me, was COGIC's minister of music for the state of Ohio.
"So I listened to gospel music growing up. One of my favorite artists was Andrae Crouch because he was more contemporary. But we listened to the Clark Sisters and all of them."
How might you respond to someone who wants to know why a secular artist is singing gospel?
"I grew up in the gospel church, and I don't care if people don't like me singing gospel. Let me tell you a story about 'crossing the line.'
"My father bought me a guitar in the sixth grade. I was playing honky-tonk, the blues, you know, do-DOOM-do-DOOM-do-DOOM. My father said, 'Don't play that devil music in this house.' I was so disappointed, I went and put the guitar up, set it in the corner.
"So in church, I asked Brother Richard, 'What's devil music?' Remember, I'm only in the sixth grade. He took me over to the organ that had two rows of keys. He smiled at me and he said, 'I don't know what devil music is, but I'll tell you what. You point to the devil notes on this organ and I'll never play it again.'
"Now he didn't know the story about my father. I smiled at him and I said, 'Thank you.' Know what I did? I went back and waited for my father to leave to go up to Cleveland, and I went into the garage with that guitar and started back, do-DOOM-do-DOOM-do-DOOM!
"But the thing was Brother Richard got me out of those 'isms', and to this day I thank him for that."
How did Stand (In the Light) come about?
"The actual song, 'Stand (In the Light),' was inspired by the devastation and disappointment of Hurricane Katrina. The song asks us to 'stand in the light of God.' But the actual album happened because I sang on Jeff Majors' gospel show.
"Jeff is a friend of mine and he called me to sing on his show. The question, though, was what to sing. My wife overheard the conversation and said, 'Why don't you play him "Mercy"?' That's a song that Debbie Allen and I wrote for a play years ago. We've written at least seven plays. So I played 'Mercy' for Jeff and he loved it, but it was seven minutes long, so he asked if I could cut it down to four minutes. I cut it down to four minutes and performed it on his show.
"Afterwards, Cathy Hughes [from the television station] walked over to me and said, 'What are you going to do? We got such a great response from the song.' I said, 'Do about what?' She said, 'You need to finish the album on this.' So Cathy and my wife attacked me and that was it!"
How is "Mercy" doing as a single?
"I have gotten a lot of great response from 'Mercy' so far. In fact, a friend of mine who has a station in Washington DC said a woman called in and she couldn't stop crying because, evidently, she was having some problems with her child. The song hit her because it's about asking God to not only have mercy on your child, but also on you."
What other songs from Stand (In the Light) may be singles?
"'Don't Let Go' I think will be a sure-enough single, and so will 'Blessed Assurance.'"
Is there another gospel project in your future?
"Why not? Even though I had started on this album a year and a half ago, I did not have a clue that the release was going to happen now, when this album is more appropriate than ever. That ain't nothing but God."
*****
James Ingram's Stand (In the Light) will be released on January 27 on Intering Records/Music One/WEA. Meanwhile, Ingram just returned back from South Africa and will be on The 700 Club and TBN programs as well as on the Hour of Power from the Crystal Cathedral. His website is www.jamesingramsmusic.com.