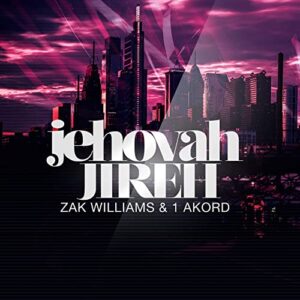 "Jehovah Jireh"
Zak Williams & 1/Akord
Enon Music Group (release date: September 17, 2021)
By Robert M. Marovich
"Jehovah Jireh" celebrates God and old-school ('80s) gospel, Philly style.
Representing the City of Brotherly Love, Zak Williams & 1/Akord offer a praise song with an agile arrangement noted for full-throated staccato choral singing, evangelistic exhortations from Williams, a flowing melody, and a hard-hitting rhythm section.
Williams namechecks GMWA Mass Choir and Wilmington Chester Mass Choir alumnus Kevin Pringle, not only for added Philly cred but because the recording is a cover of Pringle's composition.
I first learned of Zak Williams & 1/Akord at the 2012 Rhythm of Gospel Awards, where they carried off two honors: Contemporary Choir of the Year and Community Choir of the Year. In my experience, ROGA has been spot-on when it comes to their choir awards. Every artist receiving them has been disciplined, spirited, and musical. 1/A shows itself fierce on this simple but effective praiser.