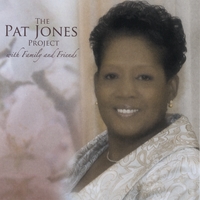 "Jesus, My Everything"
The Pat Jones Project
From The Pat Jones Project With Family and Friends (2008)
www.cdbaby.com/cd/PatJones
Hailing from Randallstown, Maryland, Pat Jones and her ensemble sing the stems off the notes on this lovely, flowing traditional-style worshipper with Richard Smallwood-esque majestic flourishes at the conclusion.
Jones is a singer, songwriter, choir director, playwright and actress. Her dramatic skills are put to excellent use on "Jesus, My Everything," because just when you think she can go no further, she digs deep and pushes vocally outward to the finish.
Pat Jones is a member of the Church of God in Christ and has served the denomination in several capacities, including Jurisdictional Coordinator for the International Auxiliaries in Ministries Conference and the Music Department Ministry for the Bishops Conference in 2009.