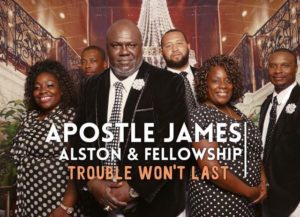 "Trouble Won't Last"
Apostle James Alston & Fellowship
https://apostlejamesalston.com/
By Bob Marovich
By their name, Apostle James Alston & Fellowship sounds like a P&W group, but they are actually a quartet, complete with Alston's gravelly lead vocal delivery and gospel chuckle.
For "Trouble Won't Last," Alston & Fellowship delivers the reassuring message of Psalm 30:5, like so many decades of quartets before them, in the language of the spiritual, "I'm so glad trouble don't last always." Of course, the melody and lyrics are different from the spiritual, and the quartet gives their song a bounce appropriate for the joyful sentiment.
Apostle James Alston & Fellowship, based in Portsmouth, Virginia, are nominated for five 2018 Rhythm of Gospel Awards, including Traditional Artist of the Year.