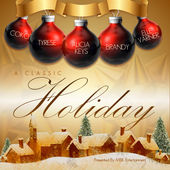 "God Rest Ye Merry Gentlemen"
Livre
From A Classic Holiday…Presented by MBK Entertainment (2015)
http://smarturl.it/AClassicHoliday
No disrespect to the many fine gospel musicians out there, but it is surely nice to hear a cappella harmonies every once in a while.
That's what the gospel group Livre gives us in their rendering of the classic Christmas carol, "God Rest Ye Merry Gentlemen."  The group's Take 6-like blend sounds effortless but is harmonically complex. Still, less is more, and during a season when every retailer is yelling to be heard over the din of other retailers, and a steady dose of over-amplified musical cheer greets every shopper walking in their doors, I thank Livre' for some sweet a cappella comfort and joy.
The selection is part of an MBK Entertainment, Inc. various artists compilation that includes Christmas songs sung by Coko, Brandy, Anaysha, Alicia Keys, and others.