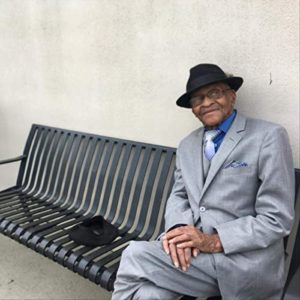 "Jesus, Let Us Be One"
Roscoe Robinson
Savoy Records (original release date: March 1983, reissue 2020)
By Bob Marovich
"Problems all around us, everyone has an answer," Roscoe Robinson rues.
Seeking the true solution, the gospel and soul singing star not only reaches back for the Word, he also reaches back more than three decades into his own song catalog. On "Jesus, Let Us Be One," originally released on his 1983 Savoy solo album He's the One, Roscoe prays for unity in His name "and in your love."
Starting out slow and introspective, the song picks up steam courtesy of a chime-y synthesizer, a post-disco tempo, and a bevy of background singers. It's the latest gospel song to be reintroduced to offer encouragement to the discouraged. By the way, Roscoe Robinson is still shouting the glory down–at 92 years of age!