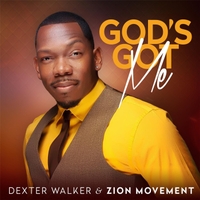 "God's Got Me"
Dexter Walker & Zion Movement
https://www.cdbaby.com/cd/dexterwalkerandzionmovem
From the Chicago choir that won the 2012 Verizon How Sweet the Sound search for the Best Church Choir in America, "God's Got Me" is a confident declaration of soul comfort sung from within the everlasting arms of the Lord. It's an embrace that feels so inviting to lead vocalist Minister Tim White that he revs up to testifying by the conclusion.
This Percy Bady-produced single, from Dexter Walker & Zion Movement's forthcoming full project release, is less frenetic than we are used to hearing from ZM and Min. Tim White, but it works because it contains traditional blues inflections and gospel runs in the contemporary setting—think 1980s Tommies in slow groove.