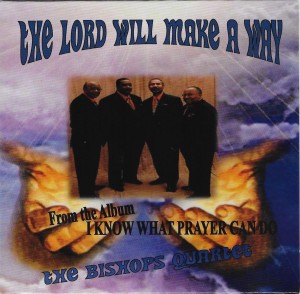 "The Lord Will Make a Way"
The Bishops Quartet
From I Know What Prayer Can Do (2015)
www.thebishopsquartet.net
The unapologetically old school Bishops Quartet tackles The Lord Will Make a Way," Thomas A. Dorsey's classic gospel of hope.
The group's bluesy, deliberate approach conjures the way gospel quartets covered the song in the 1950s and 1960s, but with the full-bodied organ-piano-guitar-bass music backdrop popular in the 1970s. "Lord" is consistent in sound and style with the group's previous material.
From Richmond, Virginia, the Bishops Quartet was founded in 2009 and consists of Bishops Alvin Palmer (manager), Thurman Hargrove, James Coleman, and Elder Robert Brice.