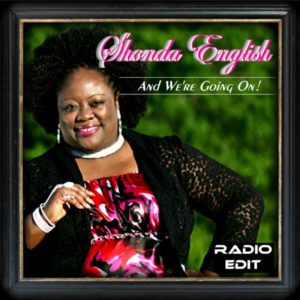 "And We're Going On!"
Shonda English
www.shondaenglish.com
A high-octane percussive arrangement propels this shoulder-shaking handclapper about the higher wages and benefits available for workers in the Master's Vineyard, and how we may not have long to earn those resources.
If the listener didn't get the point in the first portion of the song, English digs deeper into her low register to shout, growl, and evangelize the meaning during the breathless vamp.
Originally from Boston but now living in South Carolina, English is no stranger to traditional gospel music.  She worked with the late Margaret Allison of the Angelic Gospel Singers and witnessed Dorothy Norwood record one of her songs, "Blessing in Your Pressing."  She is the music director at Greater St. Paul Non-Denominational Church, founded by her father, Bishop W. T. English, who passed away in 2013.
"And We're Going On!" is as much a Biblical imperative to the listener as it is a personal message for Shonda to recover from her father's passing and return to her own Kingdom work. That includes a second solo album, scheduled for release this fall.