By Bob Marovich
As is our custom for this time of year, the Journal of Gospel Music presents its "best of" lists in the category of CDs, songs, and historical releases.
The recordings were not chosen as "best of" based on sales, chart status, promotion, voting, fan popularity, number of likes or retweets, committee decisions, throwing darts, reading tea leaves, arm twisting, or anything other than 1) JGM was serviced with the music for review either on its own platform or for review in another journal or publication, and 2) JGM believes they best represented gospel/sacred music in 2020 in terms of overall music quality.
Artists whose music does not appear here: please don't despair. These lists were compiled from hundreds of releases that came across the JGM desk during 2020. I love you all, but I had to narrow down the lists to a select few.
Best CD:

Legendary Ingramettes – Take a Look in the Book (Virginia Folklife Program)
The Rest of the Best (alpha order):
Rev. Luther Barnes & Restoration Worship Center Choir – Look to the Hills (Shanachie/SRT)
Myron Butler – My Tribute (Fair Trade / Columbia / Red Alliance Media)
Jekalyn Carr – Changing Your Story Live! (Lunjeal / The Orchard)
Isaac Carree – No Risk No Reward (Shanachie Entertainment Group)
Michelle David & the Gospel Sessions – Volume 4 (MDGS Records)
Ricky Dillard – Choirmaster (Motown Gospel)
DOE – DOE (EP) (Life Room / RCA Inspiration)
Fisk Jubilee Singers – Celebrate Fisk! (150th Anniversary Album) (Curb)
San Franklin – The Free Project (Deluxe Edition) (Enon Music Group)
Tasha Cobbs Leonard – Royalty: Live at the Ryman (Motown Gospel)
Nashville Life Music – Here For Jesus (Integrity Music)
Brian Courtney Wilson – Still (RCA Inspiration)
Best Song:
"Look to the Hills" – Rev. Luther Barnes & Restoration Worship Center Choir (Shanachie/SRT)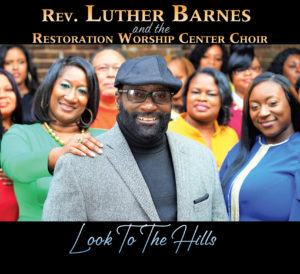 The Rest of the Best (alpha order):
"A Charge" – Desmond Roberson & the Roberson Bunch (3 Sonz)
"God's Gonna Do It' – Ricky Dillard & New G (Motown Gospel)
"I Don't Wanna Go" – Isaac Carree (Shanachie Entertainment Group)
"I'll Never Stop Praising the Lord" – Northern Delaware Chapter GMWA Recording Choir (Enon Music Group)
"Never Gave Up" – Tasha Cobbs Leonard (Motown Gospel)
"Rock My Soul" – Fisk Jubilee Singers feat. Fairfield Four (Curb)
"Shepherd" – Nashville Life Music featuring Leeland (Integrity Music)
"Take Me Back" – DOE (Life Room / RCA Inspiration)
"Yes I Am!" – Michelle David & the Gospel Sessions (MDGS Records)
Best Historic Reissue:
Various Artists – A Capella Black Gospel: Look How the World Has Made a Change, 1940-1969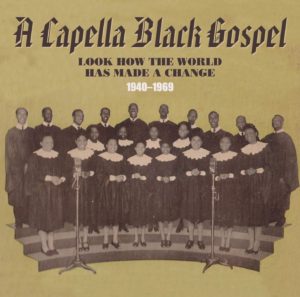 (NarroWay)
The Rest of the Best (alpha order):
Elder Beck – Your Man of Faith (Gospel Friend)
Reba Rambo – Lady (Provident Label Group / Sony Music)
Sister Rosetta Tharpe – Live in 1960 (Southland Records)
Sister Rosetta Tharpe – Bring Back Those Happy Days (Jasmine)
Various Artists – A Stranger I May Be: Savoy Gospel 1954-1978 (Honest Jon's)
Various Artists – The Gospel Truth: The Complete Singles Collection (Craft)
Various Artists – The Last Shall Be First: The JCR Records Story, Volume One (Bible & Tire)