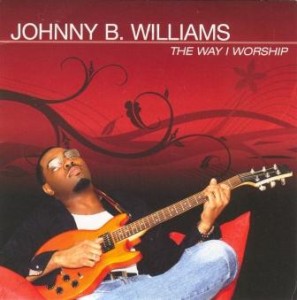 Johnny B. Williams
The Way I Worship
Johnny Williams Enterprises 2009
www.johnnybwilliams.com
Every now and then an independent project comes along that is so remarkable it leaves me wondering why it hasn't been picked up by a major label. Such a project is the independently launched The Way I Worship by Houston's Johnny B. Williams, released October 27.
This album has everything going for it. First, Williams scores as a songwriter, capable of writing current material as well as old-style anthems ("I Humbly Come To Thee") and gospels ("I'm So Glad That Jesus Found Me"). He can worry notes with the best of the gospel singing community, and plays acoustic and electric guitar and keyboards. He's fluent in praise and worship, R&B and traditional gospel. His production is superb, and as if that isn't enough, he invites fellow Houstonian and gospel powerhouse Kathy Taylor to guest solo on "He'll Pick Up the Pieces."
For the sake of transparency, I was introduced to The Way I Worship some months ago by a colleague who wanted my off-the-record opinion. I thought then, and I still maintain, that Williams is a class act and deserves serious attention. Now that the project is officially available, others will be able to decide for themselves.
The album's musical variety reflects the many ways Williams worships. On the opening track, "Faith (All You Need)," Williams barnstorms in the fashion of a J Moss or Deitrick Haddon. "I'm Gonna Serve the Lord," a 70s quartet-style tribute to his late father, Johnny Bell Williams, Sr., who was a member of the Buffalo Male Chorus, is a testament to the power of old time religion in the present day. "I Humbly Come to Thee" is a lovely, prayerful performance with Take 6 harmonies. "Forever Praise," co-written with Taylor, is a megachurch CCR praise and worship piece with strong support from the background vocalists.
An interlude featuring a teenaged female's final cry for help is sobering, with the tension resolved through "He'll Pick Up the Pieces."
The Way I Worship is one of this year's best gospel albums.
Five of Five Stars
gPod picks: "He'll Pick Up the Pieces," "The Way I Worship," "Faith (All You Need)," "I'm Gonna Serve the Lord."