Joiner's Five Trumpets, arguably the most popular quartet to come from Gary, Indiana, was honored Sunday, February 8, 2009 at a musical celebrating Black History Month and saluting local quartets.
The event was sponsored by New Friendship Missionary Baptist Church in Gary, where the Rev. Benjamin J. Holmes is pastor.
Mr. James Jones, a member of Joiner's Five Trumpets; and Mrs. Virginia Joiner-Holmes, beloved local gospel announcer and daughter of the group's founder and manager, the late Rev. Milton E. Joiner, accepted the honor. Jones joined the group in the mid-fifties and stayed on until the 1970s.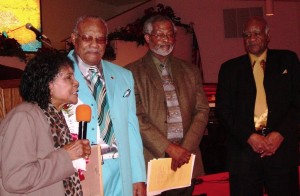 Left to right: Virginia Joiner-Holmes, James Jones, Marvin Lyles and Rev. Benjamin J. Holmes.
Besides Jones and Joiner, other members of Joiner's Five Trumpets throughout its history included John Ford, Walter Ford, Larry Bride, Jack Evans, Chester House, George Hanes, Jerry Jennings, Lee Sims, James Cochrane, George Dowell, and Roscoe Robinson.
Joiner's Five Trumpets recorded for the Hi-Hat label and Joe Brown's JOB Records, and was affiliated with various radio stations, including WGRY and WWCA. Rev. Joiner passed away in 1982.
Following the plaque presentation, dynamic gospel quartet performances filled the air, courtesy of New Friendship's Anointed Voices, Rev. Luster Lewis and the Heavenly Sounds (Michigan City), the Wings of Harmony (Gary) and the Heavenly Heirs (South Bend).
Prior to the musical section of the program, Bob Marovich, TBGB editor and host of WLUW Chicago's "Gospel Memories," offered a brief history of gospel quartet singing, citing some of Northwest Indiana's most famous quartets, including the Five Trumpets, the Silvertone Quintet (aka Silver Quintette) and the Echoes of Eden, a female quartet that recorded for Vee Jay Records.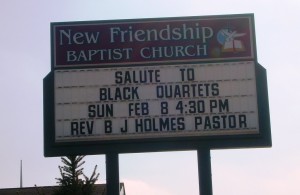 Sis. Antoinette Gaines, New Friendship's music minister, joined forces with WGVE announcer Marvin Lyles of "Gospel Sunrise" to present the program. Lyles served as master of ceremonies.