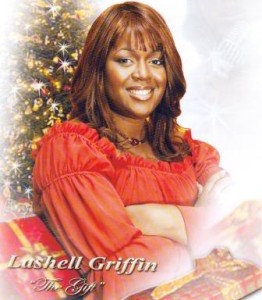 LaShell Griffin
The Gift
God's World Music 2005
http://www.myspace.com/35740870
With the Christmas season just around the corner, it's time to review holiday CDs by gospel artists. Let's start with LaShell Griffin's The Gift, recorded in 2005 and reintroduced this autumn on the heels of the publicity the Detroit-based singer has garnered based on her latest project, Dreams are Possible.
Recall that LaShell's star rose on the horizon in 2004 when she was named winner of Oprah's version of "American Idol," Oprah's Pop Star Challenge. LaShell's singles "Free" and "Dreams are Possible" are astonishingly beautiful ballads sung with power and spirit, the type of inspirational songs that can make the eyes of a hardened curmudgeon well up with briny tears of joy.
Given the holiday album's title, I was hoping "The Gift," recorded a few years back by Collin Raye and Jim Brickman, was included, as she would have done a great job with that heartwarming song, but it is not on the CD. Most of the ten selections on The Gift are the standard Christmas fare. LaShell obviously enjoys singing Christmas carols, and husband Lee joins her on a fine duet on "The First Noel." The better tracks are the dramatic, slower ones, such as "Oh Come All Ye Faithful" and "Oh Holy Night," because they give LaShell space to improvise vocally.
With these notable exceptions, LaShell often sounds restrained by the arrangements on The Gift. I also would have preferred coupling her with piano accompaniment instead of the pervasive synthesizer that competed for attention. In addition, the Latin jazz-tinged arrangements of "Silent Night" and "Angels We Have Heard on High" seemed ill-matched for the tunes.
"Born This Day," the album's sole original composition (written by Lee), is also its best, because LaShell gives it that deliciously emotional treatment she bestowed upon the selections on Dreams Are Possible .
The Gift is sure to please LaShell's fans, and serves as a reminder of the artist just after her unveiling to a larger public, but as she has proved on Dreams Are Possible, she is capable of so much more.
Three of Five Stars
gPod Picks: "Born This Day"
NOTE: LaShell Partners w/McDonalds ECS Franchise To Spread Holiday Cheer To The Struggling City of Detroit By Giving Away 300 "FREE" Christmas CDs on Thursday December 10th 12-2pm at McDonalds 2889 W. Grand Blvd