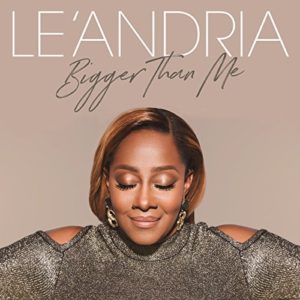 By Bob Marovich
Rome wasn't built in a day.  The world took a little more time to create. Some music albums take many months to produce.
Not Le'Andria Johnson's latest album, Bigger Than Me. She told JGM it took less than a week.
"We were just sitting in a creative space, [producers] Claude Kelly, Chuck Harmony, and myself," Johnson explained, "and we were talking about life's struggles and life's difficulties."
The discussion naturally led to a conversation about God and how He's bigger than any problem. Eureka moment. Bigger Than Me. "That matches us perfectly," she said. "We did every song after that."
GRAMMY Award-winning singer Johnson, who came to national attention as the Cinderella story protagonist and winner of Season 3 of BET's Sunday Best, said that each of her new album's ten songs were penned in that tight time frame. So how did she learn them so quickly?
"I didn't learn them!" she insisted. "When you write something, it's a part of you. You are able to convey it in such a way, but I had to sing the songs on my album from a sheet. I recorded these songs off of a sheet."
Though it doesn't sound that way. That speaks to the singer's ability to sell a song, and to her producing team of Kelly and Harmony. Their work for the likes of Bruno Mars, Miley Cyrus, Britney Spears, Kelly Clarkson, Rihanna, and Mary J. Blige have resulted in sales of more than 25 million singles.
Back in the day, gospel albums could be recorded in an evening (recording time was less expensive after hours). But as record making generally became more complex, the time from recording to completed project could take months, or longer. Technology has simplified tasks like editing but has also expanded the universe of sonic possibilities. So time saved razor splicing magnetic tape goes into maximizing the aural potential of each track.
Nevertheless, the sparse and easygoing musical atmosphere of Bigger Than Me likely needed less tinkering while at the same time ensuring that the listener's focus was more on the vocalist (and the lyrics) and less on the accompaniment.
If the songs on Bigger Than Me sound autobiographical, Johnson assured JGM that it was not deliberately meant to be so. "The songs were part of me because the lyrics and message are very much relatable. But we just had a creative moment. It was very important that we put everything on the line and tell the truth about what's going on. We were able to create from there."
She added: "I know for a fact that these songs fit me: they fit my now, they fit my past, and they fit my future. But when you have to sing them live for the first time, it's kind of different."
She sang them live for the first time at the CD release party.  How did it go?
"I think it was great," Johnson responded, "but there are sticklers out there who are going to push you further than you push yourself. When I go back into it the next time, I'm going to sing it different."
Is Bigger Than Me her best album since The Awakening of Le'Andria Johnson?
"I feel this is the best body of work I've ever done," Johnson said. "I'm so proud of this project. I'm excited to see where it goes."  She acknowledged that, as expressed in the lyrics to "All I Got," a tribute to her recently deceased brother, the album brings her peace.  That sentiment can be seen in the closed-eyed smile on the singer's face featured on the album cover.
Thinking back to her church-wrecking performance of "Jesus" from The Awakening, JGM wanted to know if she would ever record an album of old gospel classics? "Maybe," she laughed, "when I'm about 75 or 80!"