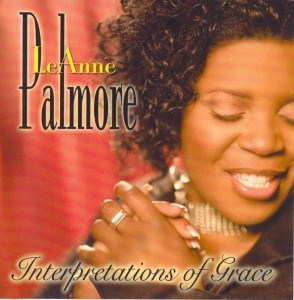 Interpretations of Grace
LeAnne Palmore
Passion Parts Entertainment 2008
www.leannepalmore.com
It's hard not to fall madly in love with this CD.
And this comes from a reviewer who prefers the extremes, the traditional and the ultra-urban gospel sounds, in all of their gutsy rhythm and soul. But one inspirational ballad after another on Interpretations of Grace is breathtakingly beautiful and heartrending, with some ranking among the best songs I've heard thus far this year, in any genre.
Two inspirational ballads in particular took my breath away: "Restore My Soul" and "Love Never Fades Away." "Take My Chances," with its African-infused vocal percussion and well-crafted lyrics, is ready-made for the soundtrack of a film or television show. All of them are the kind of performances that leave you nodding your head in satisfaction.
"Come Let Us Worship" is TBGB's radio recommendation because it showcases LeAnne's bluesier church side, beneath which can be heard the gentle purring of Virgil Straford's Hammond organ that, by default, gives the performance a traditional feel. You can almost hear the congregants shouting by the coda.
Although LeAnne is most at ease singing ballads, she shows on "Makin' It Work" and "Victory" that she is equally comfortable, and equally compelling, on the more urban-flavored numbers.
None of this is surprising if one considers that for more than a decade LeAnne has provided background vocals for top-shelf gospel and Christian artists such as Beverly Crawford, BeBe and CeCe Winans, Donald Lawrence, Michael W. Smith, Stephen Curtis Chapman, and most recently Israel, Jonathan Butler, and JoAnn Rosario. And, in the same spirit, LeAnne is assisted on her project by solo gospel artists Jerard Woods and 2003 Gospel Dream winner Benita Washington, who serve as choristers.
Interpretations of Grace reminds me of Bridgette Campbell's self-produced debut CD Bridgette (From the Heart Records 2003) in its just-waiting-to-be-discovered freshness. If LeAnne is not picked up by a major label, I'll be surprised, because she's the entire package: she can sing, she can write…LeAnne Palmore sparkles!
Four of Four Stars