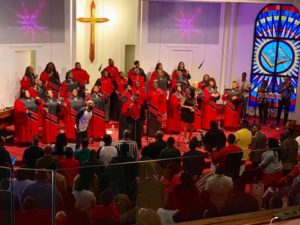 "Lift the Savior"
AJ Collier and the Band of Believers
Believers Band Music Group
https://www.ajcbob.com/
By Bob Marovich
Here's some Sunday morning old-school church music from AJ Collier and the Band of Believers of Philadelphia, Pennsylvania.
"Lift the Savior" raises its praise with hand clapping, full-throttle musicianship, open-throated choral chords, and dense harmonies. Though there is a main musical motif, all told, "Lift the Savior" is more a moment of joyous exuberance, created to move the spirit of the church, than a through-composed song.
AJ Collier organized the Band of Believers in 2016. In addition to serving in multiple roles for two different churches, Collier also serves the Gospel Music Workshop of America's National Youth and Young Adult Division under the leadership of Professor Craig Hayes, and the Northern Delaware Chapter Inc. of GMWA. under the leadership of Minister Wayne E. Carter.