Light Records launched their Gospel Legacy reissue series this January with compilations by the Winans Family, Vickie Winans, and Commissioned. The series continues the label's commitment to introducing classic gospel music tracks from the past three decades to a new generation of listeners, and satisfying announcers and enthusiasts who want a sampling of an artist's back catalog on one CD. In both respects, Gospel Legacy functions like Universal Music's Twentieth Century Masters – The Millenium Collection series: quick and dirty one-stop nostalgia.
The latest installments, scheduled to hit record racks this week (April 29, 2008), spotlight the quartet sound of two equally talented groups, but who sport distinctly different music styles.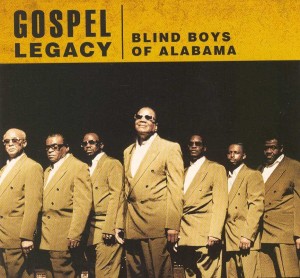 Blind Boys of Alabama
The Blind Boys of Alabama release showcases most of the songs that originally appeared on the quartet's 1995 release, I Brought Him With Me (House of Blues). As such, it spotlights memorable moments from the quartet's 1990s-era shows, including Jimmy Carter's incendiary cover of Pete Seeger's "If I Had a Hammer." Those unfamiliar with this version may find it a strange selection, but the Blind Boys turn it into a showstopper, with Carter wandering sightless into the audience, shaking hands, jumping up and down, falling to his knees, doing a backbend, all the while carrying on an antiphonal conversation with quartet leader Clarence Fountain.
Other tracks include a gospelized version of Brook Benton's RnB hit "Looking Back," which was first recorded by the Blind Boys of Alabama for Vee Jay Records in the early 1960s and has since become a Clarence Fountain staple. "Hush" and "Listen To the Lambs" feature the quartet's classic harmonizing, while "Do Lord" includes a cameo appearance by blues singer Koko Taylor. Taylor sounds like Albertina Walker as she shouts to a beat not dissimilar to her classic blues hit, "Wang Dang Doodle."
Three of Four Stars
The Christianaires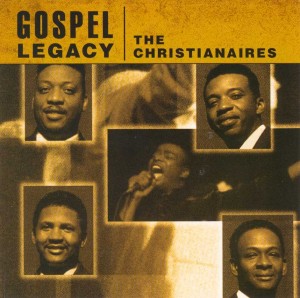 Representing a younger generation, the Christianaires sport a sophisticated urban sound befitting their coming of age in the 1970s – 1990s. The group's arrangements differ from the Blind Boys in their similarity to gospel choirs and ensembles than traditional quartet, though members Paul and Tyrone Porter are stalwarts in the national quartet scene and can do old-style church whenever they want (for example, listen to "Hook in Me," which employs a fishing metaphor to describe the security of salvation: "God's got a hook in me/I don't want to get loose.")
"Radio Angels," also on this CD, is the quartet's heartfelt tribute to gospel announcers that was virtually guaranteed airplay from the moment of its release. The group's major hit, and Track One on the Gospel Legacy compilation, is a blues-scorched reading of James Cleveland's "Two Wings." "Two Wings" is arguably the finest track on the compilation, though "Everything's Gonna Be Alright" will have you singing along.
Three of Four Stars
The historian in me hopes the Gospel Legacy series will consider incorporating into the liner notes of future releases information such as a song's year of release, identification of lead vocalists, and the album on which the song was originally issued. In addition, the current set of liner notes relies heavily for artist history on verbatim entries from Bill Carpenter's gospel music encyclopedia, Uncloudy Days, but since Carpenter's entries weren't written specifically for these reissues, they do not necessarily lend additional insight into the songs included, and only do so by coincidence. And on the Christianaires' compilation, excerpts from Uncloudy Days and the All Music Guide disagree on the name and era of the quartet's debut album (for my money, I'll go with Carpenter's assertions).
Still, those seeking a quick recap of the artist's music on one well-mastered disc will enjoy the series' offerings. Stay tuned…TBGB will review other Gospel Legacy issues in the weeks to come.