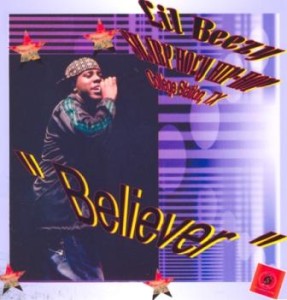 Lil Beezy
Believer
Sharper Brothers Records 2010
www.sharperbrothersusa.com
"New Alpha" is a track on Lil Beezy's album, Believer. It means "new beginnings," and while Lil Beezy uses the term in its sacred context, it could just as easily describe Atlanta-based Sharper Brothers Records' foray into holy hip hop.
Born Brandon Gooden in College Station, Texas, Lil Beezy entered the world of holy hip hop as a member of Troops In Combat (TIC) before taking his ministry solo at 18. Although Lil Beezy has several mix tapes and an underground CD under his belt, Believer is his first over-the-counter label release. It's an auspicious national debut for a promising young Christian hip hop artist.
First off, Lil Beezy is an articulate rhymer who can conjure up so many similes in a row that his English teacher must be proud. The album's production is crisp and holds its own against any HHH project out there. The songs bleed seamlessly into one another, giving Believer a three-dimensional feel.
"Can't Lose" ("I will always be a winner" with God) features a techno-fueled CD skipping technique with a portion of Lil Beezy's vocals channeled through auto tune. "Christian Lady" describes a relationship formed through Christian commonalities, while "March" is just that: a marching beat for the soldiers for Jehovah, an image that seems to serve as the album's subtext. Meanwhile, "That Word" has a catchy melody, with Lil Beezy chanting what could ostensibly be his mission statement: to "show Christ to the youth."
The Sharp/Sharper Brothers label group is best known for its quartet output, but with Believer, it may have stumbled upon a fortuitous new area of exploration. It certainly is the best product I've heard from the label thus far.
Four of Five Stars
gPod Picks: "Can't Lose," "That Word."
Reviewed by Bob Marovich for The Black Gospel Blog.