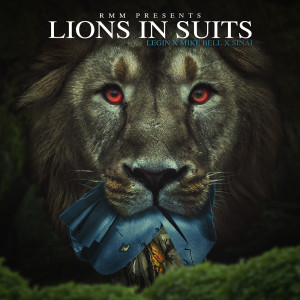 Renaissance Movement Music
Lions in Suits
(release date: February 26, 2016)
Available digitally
By Bob Marovich
On the fifteen-selection Lions in Suits, Christian hip hop collective Renaissance Movement Music (RMM) joins forces with a handful of special guests to deliver a parcel of messages.  The messages are mostly about the life-giving and life-saving power of faith in God, but they also contain pointed commentary on society's propensity to stereotype, typecast, put people in boxes, and throw shade on anything and anybody different.
RMM is comprised of Sinai, Mike Bell, and Legin. The album title appears to refer to the group's discipleship to the King, the Lion, the Son of God, and therefore the members are in the lion pack; and the suits, as Sinai and Legin reference in "Black Tie Affair," are a commitment to represent God to the nines.
During the album, we learn that RMM goes about its business in praise and with humility, as Sinai raps in "Hands High," and has "the boldness to shine in the dark" ("Shine"). The members would rather be in the lion pack than follow a pack of hyenas ("Spurgeon Theory"). On "Why I Do It," RMM says it is bringing "the clubs to the church," which in tongue-in-cheek hip hop parlance makes the members the Lord's caddies.
Of the ensemble, Mike Bell is the most remarkable rapper, demanding your attention by spitting staccato syllables like machine gun bullets. Sometimes his verses are so intense they teeter on the brink but they never topple off the edge. "I'm Not" is the album's best example of Bell's internal monologue style.
The album's best, and most radio-friendly, cut, the John Legend-esque hip hop ballad, "Without You," finds Sinai and Laquan Green admitting that we "cannot live a day without you" because, among other reasons, we mess up too much: "the devil picked the lock and we let him in."
Females are on board, too. On "Lioness," Rashonda Greggs assures RMM of the power of women: "they [evildoers] want your head on a wall but they're going to have to get through me." RMM meanwhile, embraces women power and admits that men need to do better so as not to mess up this relationship.
Another topic of importance to RMM is the way its envelope-pushing sound and style are not openly embraced by the mainstream. For its critics and naysayers, the group expresses both disappointment and bewilderment because, for the members, it's not about the way they express themselves: "it's just how we live" ("All It Is").
Of course, the irony is explicit: a reviewer reviewing a project by employing the categorization and opinion that RMM finds unhelpful to its music ministry. But whatever you might think about Christian hip hop, there is no doubt that Renaissance Movement Music is genuine in their message and realistic in their portrayal of the struggle to maintain faith in a mixed up, crazy world.
Four of Five Stars
Pick: "Without You."