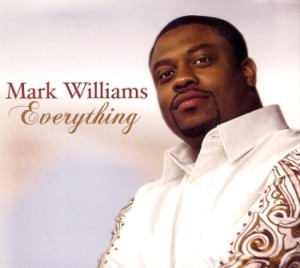 Mark Williams
Everything
ATAP Music Group (in stores June 2011)
http://www.drmarkawilliams.com/
As a board-certified Otolaryngologist (ear, nose and throat physician), Dr. Mark Williams knows a thing or two about the voice.
Including how to sing with it.
Turns out the founder of the Voice Care Center of Nashville is also an artist and a good one. His debut project, Everything, is a fine CD in many respects. Not only is it well produced (thanks to the talents of the award-winning Daniel Weatherspoon and Roger Ryan), but the singing, whether by Williams or several others, is spot-on. Most importantly, the songs Williams wrote for the project – every one on the CD is from his pen – are superb.
The melodies in particular are exceptional. "Awesome God" could have languished as a middle-of-the-road praise ballad but it is so melodious and well articulated, it hypnotizes. The album's first single, "The King of Glory," is a mid-tempo power praise anthem with a strong call-and-response component. "Don't Worry" finds the group playfully interpolating the main line of Stevie Wonder's 1973 hit, "Don't You Worry 'Bout a Thing," to emphasize the song's message of patience and faith.
But the crown jewel of Everything is "Fill Me Now." We are introduced to the song at the opening of the CD as it is sung with strings and Ryan on piano. Later, Stellar-nominated Terrell Hunt leads the full composition, a call for anointing, with verve. A song you can imagine coming out of Kevin LeVar, "Fill Me Now" is one of the best gospel songs I've heard this year.
Everything is a pleasant and relaxed listen, filled with powerful praise and worship moments bathed in melody and sung with strength. Dr. Williams obviously practices what he preaches.
Four of Five Stars
Picks: "Fill Me Now," "Awesome God."