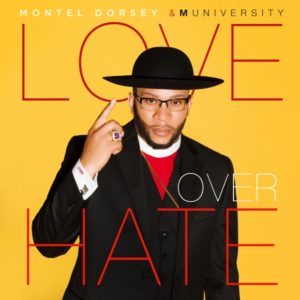 Montel Dorsey & MUniversity
Love Over Hate
MUniversity Records / eOne
(release date: March 17, 2017)
www.MUCampusLife.com
By Bob Marovich
The gospel group Montel Dorsey & MUniversity sets the thematic tone of its Love Over Hate CD by opening with a montage of radio and TV newscasts covering last year's deadly shooting in Orlando, Florida.
Overdubbing his anguished declarations that nobody has the right to decide who lives or dies, that we are not God, that God is love, and that love conquers hate, Dorsey expresses his extreme distress over today's violent world.
But don't expect an album-long head shake over the troubles of the world.
In the autobiographical "My Story," we learn that Dorsey has had his own share of demons to wrestle with. He uses Love Over Hate to praise God for delivering him from the grip of the devil and allowing him to spread a message of love to the masses. By extension, he and MUniversity argue, God will deliver the entire world. It's a reversal of the "what God does for others, he will do for you," but the palindrome works.
So although the opening moments contain raw-edged Christian hip hop, that's it. And that's sufficient, because the remainder of Montel Dorsey and MUniversity's messages are supported by a far richer mélange of percussive, complex, brassy, and occasionally orchestral arrangements that frequently barrel toward the listener with the ferocity of a freight train whose brakes have failed. Such is the case in particular with the high-energy "King of Glory," a neo-traditional pewburner that moves at an exhausting pace and even dallies at times with Broadway stage high drama.
The current single, "Celebrate," is a polyrhythmic offering of thanksgiving for personal salvation. It features vocal leads by the talented Ruth La'Ontra, the equally captivating Farrin Sherelle, and a rap interlude from Janoir.
The album also includes some compulsories: the Afro-Caribbean "The Power;" the lovely "II Chronicles 7:14" that promises "prayer changes everything" and is ideal for a worship team to present on Sundays; and the acoustic-flavored ballad, "More."
Dorsey, a New York-based singer, songwriter, producer, group leader, and pastor, has a resume that includes work with the late Bishop Timothy Wright (he interpolates Wright's "Jesus Jesus Jesus" in the prayerful "Jesus Deliver").  He has also assisted James Hall, Byron Cage, Melvin Crispell, and Hezekiah Walker. One hears the aggressive, extroverted, explosive East Coast choral sound of Hall, Crispell, and Wright on this album.
Dorsey as a vocalist functions much like James Fortune: a preacher/teacher making declamatory statements while MUniversity responds in harmony. He makes ample use of female vocalists, such as the aforementioned Ruth La'Ontra and Farrin Sherelle, as well as Tiffany and Jessica Pugh, for the leads, though like a seasoned quartetter he belts out "I Need Thee Every Hour" at the tail end of the project.
With far more focus on the goodness of God than the evil that men do, Love Over Hate delivers on its promise.
Four of Five Stars
Picks: "Celebrate," "King of Glory."