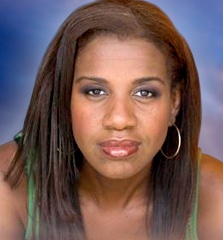 TBGB received this press release from Black Gospel Promo, and passes along its deepest sympathies to Kayla's family and friends. Too young, too young…
Kayla Parker – Tolbert's remarkable talent has earned her an enviable place on the modern musical landscape. Her music was part of the funeral of Coretta Scott King and of the healing process after the devastation of Hurricane Katrina. As a songwriter, producer and backup singer, she has worked with a Who's Who in both gospel and R&B music, including CeCe, BeBe and Vickie Winans, Brandy, Anthony Hamilton, Michelle Williams of Destiny's Child and Mark Kibble of Take 6. She has appeared on Oprah, David Letterman and The Tonight Show with Jay Leno, and her songs have been performed on Good Morning America, CNN, BET and TBN, among others.
After being so much a part of the success of others, Kayla was about to step into the spotlight on her own. As a solo artist, she was making music that defies easy categorizing, blending her gospel roots with a sleek and savvy musical approach and an honest look at the trials and triumphs of present – day life – something the cancer survivor knows very well.
"My music is definitely inspirational," she says. "I can identify with people who've been through hard times because I've been there myself and have come through it. I think people will also appreciate my candidness – I don't sugarcoat things."
The result is music as full of emotion and uplifting as any on the nation's airwaves, music that fulfills the promise evident since her days as a teenager in Detroit's Pershing High School. There, she formed an all – female vocal group that quickly put her on the map. Taking the name "God's Special Gift" after a woman called them that at a performance, the group won a talent show and went on to become widely known in the city's churches. As their fame spread, Anita Baker producer Michael Powell heard them and began working with them. They became Special Gift, and their recordings and performances, riding the strength of Kayla's songwriting, quickly earned them national recognition.
It was success her parents had seen coming since she was tiny. Her mother, Aseneth Parker, was a jazzy nightclub singer, stage named "Anita James," who turned her energy and talent toward the church; her father, Richard Parker, was a songwriter, producer and label executive who was discovered by the legendary Sam Cooke and worked with Little Richard, the Supremes, and an early version of the Temptations, among many others. As a child of just 2 or 3, Kayla would sit on his lap as he wrote at the piano. From childhood through her teenage years, Kayla listened to her mother's jazzy choice of notes as she moved audiences in church, and she drew a love of music from both her parents and her wider surroundings.
"I used to enjoy getting my hair done at one lady's house because she had a piano," she says, "and I would try to play it. Then at night I would ask the Lord to take me in my dreams to a piano just so I could play while I slept." Eventually her mother, by that time divorced and struggling, managed to surprise her with a piano and instill in her daughter the desire to draw on her own talent and resources, even as Kayla drew inspiration from DeBarge, Michael Jackson, the Clark Sisters, the Winans and Stevie Wonder.
"'I didn't buy you a piano to have you play other people's songs,' my mom told me at one point," she says, "and that's when I started to write my own music."
Soon she was pulling together that group of friends at Pershing High, teaching them harmonies, earning a wide reputation as "the musical girl" and signing eventually with Powell. She learned ever more sophisticated harmonies listening to Take 6 and others, and continued to improve as a writer. In 1989, at the National Convention of Gospel Choirs and Choruses, she won a nationwide award for Song of the Year for "Since Jesus Came Into My Heart," recorded on the album Ronald Winans Family and Friends Volume 3.

"I began meeting my idols and working with them," she says. When Twinkie Clark left the Clark Sisters, Kayla was chosen as their first background singer, a slot she held for a year. She worked with Mark Kibble of Take 6 on gospel's Grammy and Stellar award – winning Donnie McClurkin's first solo project. She did commercials with Fred Hammond and Eric Dawkins, wrote songs for Hammond's second album, and wrote the hit "Now Are We" for Marvin Winans and the Perfected Praise Choir.
Kayla then sang backup for BeBe Winans, traveling to Europe and performing on Oprah's and Jay Leno's shows. She met superstar producer David Foster and sang on Brandy's record, then moved to California, learning the streets of Los Angeles through her play – brother, comedian Jonathan Slocumb, while conducting seminars and working with church ministries' praise and worship departments across the country.
It was then, in 1999, that she was diagnosed with cancer, returning to Detroit to undergo treatment and to recover.
"When I got my strength back and grew enough hair on my head, I went back to California," she says with a laugh that belies the level of strength and courage it took to come through her ordeal. She threw herself back into her writing, and learned to engineer her own sessions. Working with a producer friend, she pulled together recordings of a number of her songs, both gospel and inspirational R&B – – "life music," she calls it – – and looked to develop her own artistry. She met and married David Tolbert and found renewed success as a songwriter. CeCe Winans recorded "He's Concerned About You," a song whose message of hope found a natural audience in the wake of Katrina, and Vickei Winans cut "It's Alright," which quickly became a hit. Others including Rodney and Joy Jenkins and gospel jazz artist Tim Bowman cut her material as well.
Meanwhile, Kayla was drawing attention as an artist, packing crowds into B.B. King's in Universal City for a series of shows and putting the final touches on her own recordings. Songs like "Here I Go" and "Survivor," about coming back from cancer, "I'm OK…With The Things That I've Got," which urges day – to – day gratitude, and "Some Things Just Happen," mark the flowering of one of modern music's most complete talents.
"For me," she said, "the goal is always a song you can sing forever, a song that will mean something to people of all kinds."
Kayla's works live on…
2006 – Vickie Winans – Woman To Woman, It's Alright, Madly In Love, Go Go Praise, Never Separate, Trust Him, Falling In Love, God of Comfort, We Need Your love, and A Thousand Pains
2006 – Vickie Winans "It's Alright" Single – Writer, Vocal Producer
2005 – CeCe Winans – Purify – "He's Concerned About You" – Single – Writer, Vocal Producer
2004 – Tim Bowman – This Is What I Hear – "Angels" – Writer, Vocal Producer, Artist
2003 – Bishop T.D. Jakes MegaFest Commercial – Writer, Producer
2002 – Michelle Williams – Heart To Yours – "Heart To Yours", "The Sun Will Shine Again" , "Rock With Me" , "Better Place", "Everything" – Writer, Vocal Producer
2002 – Mary Mary – Incredible – "Little Girl" – Vocal Producer
2002 – BeBe Winans – BeBe Live And Up Close – "Do You Know Him" – Vocal Producer
2002 – Shirley Murdock – Home – Vocal Producer
2001 – CeCe Winans – "CeCe Winans" – More Than Just A Friend" – Writer, Vocal Producer
2001 – Fred Hammond – "In Case You Missed It" – Vocal Production
2001 – Fred Hammond – Christmas – ' God Has Been So Good" – Writer
2001 – Marvin Winans "Friends" – "If God Said It" – Writer, Producer
2001 – Regina – It Ain't Over – Vocal Producer
2000 – Michael and Regina Winans – Vocal Production
2000 – Bishop Clarence McClendon Harvest Fire Mega Mass Choir – "I Call You Faithful" – Artist
1999 – Men Of Standard – Feels Like Rain – "Come Back Home" – Writer, Producer
1998 – Greg O Quinn – Conversations – "Know You" – Writer, Producer
1997 – Oleta Adams – Come Walk With Me – "I Will Love You" – Vocal Producer
1996 – Special Gift – Yours With Love – Founder, Writer, Producer, Artist
1996 – Ron Winans Family Friends IV – Writer, Vocal Production
1995 – Keith Staten – No Greater Love – Writer, Vocal Producer
1994 – James Moss – Keep On – Vocal Production
1993 – Thomas Whitfield A Tribute To The Maestro – Vocal Production
1993 – Fred Hammond – Deliverance – "Love You Forever" – Writer, Vocal Production
Samples of her songs can be heard at:
www.kaylaparker.com and www.myspace.com/kaylaparker1
The Homegoing Service is as follows:
Funeral Arrangements
Saturday, April 28, 2007
11:00 a.m.
Faithful Central – The Tabernacle
321 N. Eucalyptus Avenue
Englewood, CA 90301
Church: 310.330.8000
(Send all flowers to the Church)