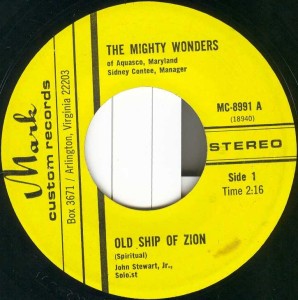 Baylor project seeks to preserve old African-American gospel
By GROMER JEFFERS JR./The Dallas Morning News
WACO – Deep in the basement of Baylor University's Moody Library, a slightly worn 45 nestled around a high-tech turntable starts to spin, producing a mysterious voice from the past. At Baylor University's Moody library, audio engineer Tony Tadey works in a sound room to make a digital recording of an old gospel record.
The Mighty Wonders and lead crooner John Stewart Jr. deliver a moving version of the gospel standard "Old Ship of Zion." He exhorts listeners to "get on board if you want to see Jesus," as the rest of the Wonders keep pace in the background. Like so many of their contemporaries in the late 1950s and early '60s, the group's emotional solos and rich harmonies were buried at the bottom of collectors' cardboard boxes or lost to time – until now.
Robert Darden, a journalism professor and music historian, has made it his life mission to preserve every gospel record made from 1940 to 1970, which includes the genre's golden age. He's been stretching a $350,000 grant from a Connecticut investor for the Black Gospel Music Restoration Project at Baylor. With a staff of three, Mr. Darden buys and solicits old records from collectors, average fans, record companies and other schools.
Along the way, he is finding some lost or forgotten gems, such as the Wonders' track. "It blew me away," he said of the recording that brought tears to his wife's eyes. "I've never heard anything like it. It just makes you want more. I have not been able to get that song out of my head."
Since the two-year project began more than a year ago, Mr. Darden and his staff have preserved more than 1,000 rare and classic gospel records. Their work has thrilled gospel lovers.
The Rev. Bryan Carter, pastor at Concord Baptist Church in Dallas, said old-time gospel music is still performed in many churches but is not easy to find on CD. Churchgoers are familiar with songs because they have been sung for years, though the original recordings have faded with time. "It's a great project that's long overdue," Mr. Carter said. "The oral tradition has been passed down and is still around. But a lot of the actual music has been lost, so this undertaking helps preserve and important part of African-American history."
Mr. Darden recognizes the challenge but says it's worth it. "This music to me is as pure as it gets," Mr. Darden said. "Even the stuff that's rugged and a little bit out of key, there is a passion and heart to it that I don't hear in other music."
Rooted in slave songs
There was a time when gospel was a dominant sound in black culture. It evolved from spirituals that were moaned by slaves on plantations. The melodic pleadings were often coded messages about the Underground Railroad to freedom. Newly freed blacks who lived mostly in the South modified those songs, with groups from Texas helping lead the way.
Gospel, by definition, refers to the Gospel of Jesus Christ. Deeply religious people sang about the "good news," which was that Jesus Christ died to wipe away the sins of the world and then rose from the grave on what's now celebrated as Easter Sunday. The religious themes of the music often created a dichotomy for the performers, many of whom performed gospel music and blues.
Thomas Dorsey, for instance, wrote the historic "Take My Hand, Precious Lord" 76 years ago after losing his wife and child during childbirth. He had been a blues performer called "Georgia Tom." It's the music of Mr. Dorsey and others that Mr. Darden wants to preserve.
Mr. Darden was introduced to gospel as a boy in the 1950s, when his father, an Air Force lieutenant, used his $15 a month raise and bought a hi-fi player and three recordings – a Perry Como album, a collection of movie tunes and a Mahalia Jackson record. "The Mahalia Jackson record is the one I played," Mr. Darden said.
Through the years Mr. Darden, who was once the gospel music editor at Billboard magazine, amassed a collection of his own and wrote about the music. He became frustrated that his research brought stories of great performances, but little else. "I would write about this particular song, and then I wouldn't be able to find it," he said. "People would tell me they never see one or didn't have a copy."
An article by Mr. Darden about the music, published in New York, brought interest from Connecticut businessman Charles Royce, who ultimately gave the historian the grant to start to restoration project.
Among Mr. Darden's uncovered crop of old tunes are rare cuts from the Soul Stirrers, the Trinity, Texas, quartet that moved to Chicago and influenced the secular sound that would be refined by artists like Ray Charles, Wilson Pickett and Aretha Franklin. Great soul groups of the 1960s and '70s got their harmonic styles and practice of switching lead singers to build the intensity of a song from the Soul Stirrers, whose alumni included R.H. Harris, Sam Cooke and Dallas soul man Johnnie Taylor. "Gospel helped launch the whole R&B era," said Mr. Carter, Concord Baptist's pastor. "It's directly linked to the R&B music we hear today.
Mr. Darden also has rare 45 r.p.m. records from the Texas-bred Pilgrim Travelers, who also migrated to Chicago. While gospel enthusiasts know the Soul Stirrers and Pilgrim Travelers, other artists rediscovered by Mr. Darden are rare treasures. Baylor now has largely unknown records by the Bells of Joy, an Austin group that wowed crowds in Central Texas but recorded sparingly. The Bells' most ubiquitous track is "Let's Talk About Jesus." But, as Mr. Darden points out, they also really "tear it up" with the rarely heard "Do Lord Remember Me" and "I Found Another Soldier." The Bells still perform in Austin.
Many of Mr. Darden's newly restored sounds were never meant to be heard by wide audiences. These include the rare recordings of the Mighty Wonders that were donated to the project from a Chicago collector. It's believed that the Wonders, like many fledgling gospel artists of the time, would pay for studio time and cut only a box full of records. The Aquasco, Md., group probably sold the records at the churches in venues where they held concerts or musicals.
Because some of the music was not professionally made, the sound quality of the work collected by Mr. Darden varies. Some material has mold on it. Other recordings that he has collected and preserved were made of cardboard. Tony Tadey, the studio engineer who makes the digital transfers, says he tries to stay true to the music. "We preserve everything," he said. "We want the hisses and the pops."
Record firms resist
Mr. Darden's project is made necessary in part because of the music he believes is stockpiled in record company vaults. He's been unsuccessful in persuading companies to re-release the music or at least lend it to the project. "It's hard to know what they really have," he said. About 70 percent of rare gospel music is in the hands of about 15 collectors worldwide. Getting them to come together to develop a catalog has been challenging. So Mr. Darden is seeking collaboration with other universities to bolster his collection. He hopes to get donations from the University of Texas, the University of Michigan and the University of Southern California.
The Gospel Music Restoration Project is modeled, in part, on the Arhoolie Foundation, the nonprofit spin-off of music label Arhoolie Productions Inc. The foundation oversees the Strachwitz Frontera Collection of Mexican and Mexican-American vernacular recordings. That music has been digitized and placed online through the UCLA library's Web site. Mr. Darden's crew solicits material in different ways. He'll pick the music up if it's nearby. He'll even pay for shipping.
Ultimately, Mr. Darden wants to take the show on the road, both showing people the collection and picking up more donations. "I'd like to get an 18-wheeler and go on the road," Mr. Darden said. "It would be a traveling music museum, but we can pick up some stuff as well." The music historian said the project would go on long after he's gone. "I don't know how many songs are out there," he said, listening to rare rendition of "How Far Am I From Canaan." But "we're a little bit diminished as a people when something cut with that passion and love is lost."
RECORDS OF OLD RECORDS
Here are some interesting finds by the Black Gospel Music Restoration Project.
*A powerful version of the "Old Ship of Zion" by an obscure Maryland group called the Mighty Wonders.
*Rare songs from the Austin-based Bells of Joy.
*Booklets of sheet music believed to have been used by the Pilgrim Travelers.
*Numerous songs recorded with crude equipment and waxed on vinyl or cardboard.
HOW TO HELP
Do you have some old gospel tunes in your attic? You can donate them outright to the project, or you can lend them to Baylor so they can be cataloged and digitized. The school will pay for postage and handling. Fragile recordings or documents are handled with extreme care.
Materials can be sent to the following address:
Black Gospel Music Restoration Project
ATTN: Denyse Seaman
Baylor University Libraries
1312 S. 3rd Street
Waco, TX 76706
TBGB to fellow collectors: we can't take our collections with us when we die. Loan them to the BGMRP now, and protect the legacy you had the foresight to preserve.