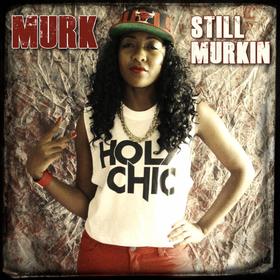 Murk
Still Murkin
Dedicated Music Group (2015)
www.murkp31.com
By Bob Marovich
The Still Murkin mixtape serves as both an introduction to Murk, a young female Christian rapper whose professional name serves handily as a verb; and an extended promo for her forthcoming sophomore project, P31, which arrives March 31, 2015, as we are informed several times during the thirty-minute release.
With her record company owner Mr. Del as host, Murk goes street-level with her rhymes, raging against damaging actions by the police, the media, and even the church on "Welcome Back," and insincere artists on "Real 22" ("I won't lie to your face just so I can get a meal"). The latter reprises the subject matter of her single, "P31," from her Murk in Season project, on which she signs with a fictitious record label that wants her to sell out to sell more records.
How loveless relationships hurt future generations is the focus of the title track. On the clever "Anotha Level," Murk raps gleefully about being pulled over by police (on a DWB, no doubt) who thought she was high on drugs or alcohol, but she was just high on Jesus.
In addition to "Anotha Level," the autobiographical "Dreams" is a mixtape highlight. Murk's dream come true was winning the "Battle of the Praises" competition in Miami, where she was discovered by Mr. Del (Hope Dealer) and signed to his label. In addition to "Dreams," Murk provides three interstitials in which she describes how she and her mother moved from Peoria, Illinois, to Memphis to chase her dream.
The mixtape, offered free through Noisetrade, prefaces Murk's multi-city P31 Movement tour. Murk says the tour will encourage the use of "positive hip hop music, literature, apparel, accessories, curriculum, theater, and film to captivate and connect women all over the world. Our group of women will proudly represent and model the precious character of the Proverbs 31 woman. We will build an army of P31's who will courageously defy societal standards and boldly live out their own."
Murk's ability to see purpose and even humor in challenging circumstances and her well-articulated rhymes suggest a promising next release.
Three of Five Stars
Pick: "Dreams"