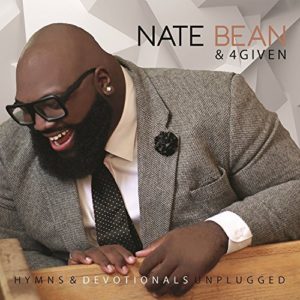 Nate Bean & 4Given
Hymns & Devotionals Unplugged
G.Favored Entertainment Group/DREAM Gospel
(release date: July 1, 2016)
www.TheGFavored.com
By Bob Marovich
It's heartening to witness the increased interest in hymns.
These songs of the church, with their timeless messages and poignant melodies, brought generations through some of the hardest trials of humankind. Despite a plethora of religious songwriters providing new soundtracks to today's sacred spaces, songs such as "It Is Well," "Oh How I Love Jesus," and "What a Friend We Have in Jesus" still heal and offer hope many decades after they were introduced.
On Hymns & Devotionals Unplugged, Nate Bean & 4Given of Nashville, Tennessee, demonstrate how hymns and contemporary gospel can be integrated to offer a fresh take on the classics.  At the same time, I'm not sure about the "unplugged" part, as the small choir is supported by a robust team of plugged in musicians who amply support their big sound and bursts of aggressive vocal vibrato.  Nevertheless, most of the album's arrangements evoke the calculus of jazz and symphony: they state the original motive and then expand upon them in fascinating ways.
What sells the songs, however, is the vocal coloration of the top-shelf lead singers who raise the hymns. Shonka Dukureh's unfettered squalls on the vamp of "Revive Us Again" turn the temperature up on that already high-octane hymn, while Lady Adrian Lewis-Freeman of Rizen does the same on the uptempo "I'll Say Yes to My Lord." Gospel industry exec and vocal soprano Tammy Taylor lofts dog whistle notes on "It Is Well" (though nobody then and now can compete with Fellowship Chicago's LouDella Evans Reid's direction of this hymn).  The bittersweet album closer, "No Not One" / "There Is None Like You," features song and fiery evangelizing from the late Lady Lakisha Mitchell. Popular recording artists Michelle Prather (Kurt Carr Singers alumna) and Pastor San Franklin-Jackson take a hymn each.
The album's shining moment comes at the very beginning, when the group sings a medley of congregational devotionals, the type that are rendered in churches across America every Sunday but are rarely heard on CD and radio.
Especially appreciated are the liner notes, which credit the actual composers and list original composition dates, some going back to 1855—an example of how everything old is new again. Or to quote another church chestnut, "it was good for my dear mother, it's good enough for me."
Four of Five Stars
Picks: "Devotion," "I'll Say Yes to My Lord."