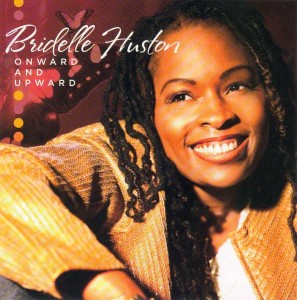 Bridelle Huston
Onward and Upward
X925 Productions 2008
www.bridellehuston.com
Vocalist Bridelle Huston has more than a Hollywood smile. She is steeped, and skilled, in a variety of musical styles, from jazz and gospel to neo-soul, rock and pop.
Her amateur and professional music experiences partly explain the eclectic mix. Starting out as a young church singer in a family group, the Cody Sisters, Bridelle later joined pioneer gospel jazz group New Born Soul. She paid her dues as a background singer for top gospel artists such as Donnie McClurkin and Yolanda Adams, and formed her own ensemble, Bridelle Cody and One Creation. But Bridelle's eclecticism also comes from her own acknowledged diverse tastes in music, encouraged by parents who instilled a love of music in her at an early age.
Given Bridelle's varied musical interests, her solo debut Onward and Upward, released earlier this year, falls squarely within the no-holds-barred urban inspirational groove. It benefits from fine production (Eric Reed), superb musicianship, and original songs penned by Reed, Bridelle and her songwriter husband Wade Huston.
One would think that, with her whispery, pop-influenced voice, Bridelle would radiate on the inspirational ballads, but she actually seems far more confident on the up-tempo pieces, such as "Beautiful," the rocking "Only Way," "Everyday Pray" and "Until the End," the latter featuring a rap by Richard (Black Diamond) Cody (her brother, perhaps?)
On the other hand, the best written songs are the ballads, such as the lovely title track, the equally beguiling "Holding On 4 U" and "Lifter of My Head."
One uptempo performance that stands out, however, is "Beautiful." Lyrically but not melodically kin to hits such as Christina Aguilera's song of the same name or India.Arie's "I Am Not My Hair," "Beautiful" encourages women to walk – no, fly – away from those who seek to keep them down physically and emotionally. Other songs espouse a "life has its challenges, but hang on to the Lord and you'll be all right" attitude, befitting the album's title.
Onward and Upward includes plenty of pleasing, well-written and deftly arranged songs. If Bridelle continues to pursue her craft and hone her vocal skills, she will eventually knock the cover off of any song she sings.
Two and a Half of Four Stars