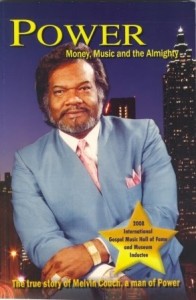 Power: Money, Music and the Almighty
Melvin Couch, with Kate E. Stephenson
Welstar Publications 2009
164 pages, w/illustrations
The music business is tough. Whether working in pop, rock, classical, jazz, easy listening, blues, country or gospel, there will be moments of joy and moments of frustration and disappointment. There will be trustworthy people and those whose behavior could embarrass the devil himself. There will be trials, lessons, lucky breaks, heel-kicking surprises and second chances.
Melvin Couch experienced all of them.
The late Mr. Couch, owner of Meltone Records and Nu-Sound Entertainment, passed away December 19, 2009 after a long illness. Despite his waning energy, Couch got his affairs in order, one of which included completing his autobiography.
Released posthumously, Power: Money, Music and the Almighty lives up to its title. Much like Ray Charles' autobiography, Brother Ray (sans the blue language), Couch pulls no punches, telling it like it was. In conversational style, he chronicles the good, bad and ugly of his personal and business life. Born in 1940s Philadelphia, Couch was a Marine, police officer, numbers writer, and owner of fast-food restaurants and furniture stores before his Christian conversion and entrance into the music business. Couch was a bootstrap entrepreneur, turning nickels into dimes wherever he could. He admits to as many failures as triumphs along the way.
The story of the rise and fall and resurrection of the Meltone Entertainment Group is a primer for anyone desiring to start a record label. According to Couch's story, it takes equal parts guts and luck as well as business acumen and well-cultivated relationships.
The book also covers Couch's singing career with the Golden Wings and later as Melvin Couch & Company. Of course, Meltone Records was among his proudest achievements, as was his family and friendship with mentor Fred Mendelsohn of Savoy Records. Meltone focused on the traditional side of gospel, its roster resplendent with the likes of Doc McKenzie, Katie Sankey, Dr. C.J. Johnson, and the Violinaires.
Power: Money, Music and the Almighty is a case study in the reality of the music business. It ought to be required reading for those who want to enter the music business, have read the how-to books and attended the workshops, but want to see the landscape without rose-colored glasses.
At the same time, I doubt Couch's intention was to scare readers off with his honest portrayals. Indeed, his stick-to-itiveness despite seemingly insurmountable obstacles should inspire many to make the journey anyhow. His was a life rich with phoenix-like moments, and in the end I'll bet he'd say it was worth it all.