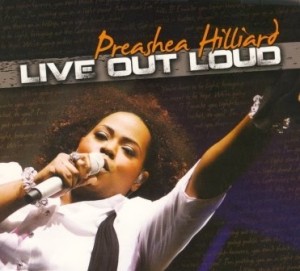 Preashea Hilliard
Live Out Loud
Blacksmoke Music Worldwide (2010)
www.preshmusic.com
To Preashea Hilliard, "LOL" means Live Out Loud.
And loud – in energy, enthusiasm, volume and message – is exactly what her debut project, Live Out Loud, exudes.
The Houstonian vocalist is the youngest daughter of Bishop I.V. and Lady Bridget Hilliard of Houston's New Light Church, where the CD was recorded live in April 2010. Preashea smartly assembles songs from talented writers such as Deitrick Haddon, Israel Houghton and Kurt Carr, and contributes a few of her own compositions, to create an impressive debut album, produced by Grammy Award-winning Aaron W. Lindsey.
The first portion of Live Out Loud contains thunderous musicianship, a real brass section, and background vocalists backing Hilliard, her melodic voice at times possessing the tight, lyric vibrato of Streisand and some of the songbird's soul-centered drama. Selections such as "He's Able," "Fresh Fire" and "Lift Up Your Heads" (by Aaron Lindsey and James White, not the Coleridge-Taylor hymn) establish a powerfully charged atmosphere from the get-go.
It is only during "Redeemer," a lovely gospel song teaming Hilliard with her godmother, CeCe Winans, does the temperature cool to a reverent, prayerful mood. It is as if the audience, lifted from their seats by the extroverted tempos, awaiting and acknowledging redemption, could finally settle into a more mellow worship frame of mind. One of the mellow worship ballads in this section, "Oh How We Love You" is a fine example of Hilliard's songwriting: a textbook P&W ballad with a memorable melody.
From there, Hilliard and company offer dynamic arrangements of praise and worship pieces. Later, Bishop Hilliard contributes an exhortation prayer and launches into a simple sing-a-long melody on "Jesus I Love You."
Preashea Hilliard's recent appearance at the popular South By Southwest music festival undoubtedly introduced her to many new gospel enthusiasts.  On Live Out Loud, "Pastor P." shows she can guide an audience from arm-waving praise to hushed prayer and back again.
Four of Five Stars
Picks: "Redeemer," "Fresh Fire," "He's Able."