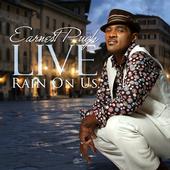 "Rain On Us"
Earnest Pugh
From the Black Smoke Music Worldwide CD
Earnest Pugh Live: Rain On Us (street date: July 28, 2009)
www.earnestpugh.com
Fire and rain figure prominently in the Bible and in gospel music as elements of cleansing and empowerment. On the meditative praise and worship song/prayer "Rain on Us," Earnest Pugh pleas for God to send the rain to wash over the hardships and troubles encountered in this economy.
The heartbeat-pace and dramatic buildup of "Rain on Us" are reminiscent of GMWA Women of Worship's modern classic "Order My Steps." The call-and-response between Pugh and the choir is equally passionate. The single is from Pugh's new live CD, recorded last year in the Nation's Capitol and featuring Vanessa Bell Armstrong and Richard Smallwood.
Pugh serves as Director of Praise & Worship at Ebenezer AME Church in Fort Washington, Maryland, under the pastoral leadership of Rev. Dr. Grainger Browning, Jr. and Rev. Dr. Jo Ann Browning. The head of Ebenezer AME's music department is none other than fellow gospel artist Minister Byron Cage.