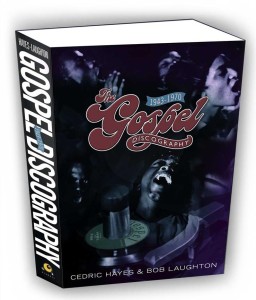 From Eyeball Productions:
The Gospel Discography 1943-1970 is the culmination of over forty years of research, starting with a column by Cedric Hayes called "Post War Gospel Records" in the fledgling Blues Unlimited magazine in 1963. Cedric was joined shortly afterwards by Bob Laughton, and the work slowly and painstakingly grew into the 1992 publication of Gospel Records 1943-70.
During the fourteen years that have passed since that edition, a wealth of new information and detail has been uncovered, resulting in this thoroughly revised and substantially expanded 658 page incarnation. The listings follow the same format as The Blues Discography, arranged alphabetically by artist and chronologically by session and matrix number. Also included are indexes for artists, song titles, 45/78rpm, LP and CD issues.
This book is essential. ESSENTIAL! Did I mention that it is essential?
Get your copy here:
http://www.eyeballproductions.com/pages/gospel%20discography.html
TBGB thanks Cedric Hayes, Bob Laughton and Bob McGrath for making this new edition available. Not only will it provide information on a greater number of gospel recordings than ever before, but since the earlier edition has been out of print and hard to find for years, more individuals will now be able to gain access to this valuable information.