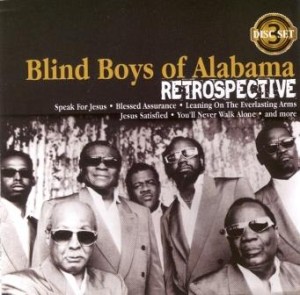 Retrospective
Blind Boys of Alabama
Sheridan Square Records 2007
www.sheridansquaremusic.com
The Blind Boys of Alabama are among the most anthologized quartets in all of gospel music. For good reason, too – the group has been recording since music was on thick ten-inch discs and Truman was in the White House. Earlier this month, they were presented with a Grammy Lifetime Achievement Award.
The group's three-disc Retrospective on Sheridan Square Records blends recent recordings of the Blind Boys with electrifyingly sanctified, hard-singing early sixties output. The "big oops" is that the vintage recordings are not by the Alabama Blind Boys, but actually by the Five Blind Boys of Mississippi.
Among the Alabama Blind Boys' recent releases on the set are "Do Lord" with Chicago blues icon Koko Taylor, "Holdin' On," "Sacrifice," and a lovely acappella version of the spiritual "Nobody Knows the Trouble I've Seen." Here you'll find the group's anti-drug paean "No Dope" ("We don't need no dope, 'cause we got hope"), from the marvelous live I Brought Him With Me CD (House of Blues, 1995), and "If I Had a Hammer," featuring the effervescent Jimmy Carter. The latter is offered twice: once as a radio edit and later in a seven-minute version.
When Clarence Fountain and the group were with Vee Jay Records, they made gospel hits out of Brook Benton's "Looking Back" and the Broadway classic "You'll Never Walk Alone." Updated versions of each are featured on the set.
The Five Blind Boys of Mississippi recordings inadvertently included are the mesmerizing "Blessed Assurance," "Leaning on the Everlasting Arms," "Jesus Satisfies" and "Speak for Jesus." The tracks are from the Mississippi Blind Boys' 1959-1965 era and can be found on the Best of the Blind Boys, Vol.2 LP (Peacock 188). If you don't have that album, you are unlikely to have heard "Blessed Assurance," "Jesus Satisfies" and "Speak for Jesus," as they were never issued as singles. And if it's any consolation, Carter is on the aforementioned tracks from Peacock 188, because he was in the Mississippi Blind Boys during the early 1960s.
The irony of "Amazing Grace," the concluding track, is not lost on the Blind Boys of Alabama, as they wrench every ounce of emotion from the final line, "I was blind but now I see."
Retrospective is a fine set, but gets points off for the error.
Two and a Half of Four Stars