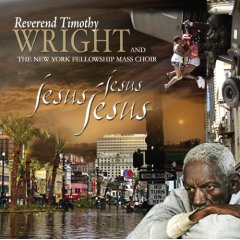 This message came in from Tammy Taylor. The gospel world is shocked by this news. Keep the Wright Family in your most fervent prayers.
******
Driving back from AIM Convention in Detroit MI, Pastor Timothy Wright was in a horrible accident late last night. First Lady Betty Wright was killed instantly and Pastor Timothy Wright is on a ventilator fighting for his life. Their grandson was in the car with them and is fighting for his life as well. Please keep the Wright Family in your prayers!
Ms. Taylor noted later that Pastor Wright is in critical but stable condition.
Sheilah Belle of The Belle Report adds this information:
Lamar Barrack, PA – Around 11p.m. Friday night (July 4, 2008), Rev. Timothy Wright, his wife (First Lady Betty Wright) and their grandson were traveling through Lamar Barrack, PA, on their way back from the AIM Convention in Detroit, Michigan. While en route, police say, an individual was traveling westbound but on the eastbound side (traveling in the wrong direction), and as a result ran into Rev. Timothy Wright's car head on. Dangerous drivers such as this don't seem to be in short supply which is why many won't hesitate to reach out to a car accident attorney Houston if they've been injured due to the recklessness of another. Police also say another vehicle traveling in the same direction as Rev. Wright's car could not see the smoke from the accident and ran into the rear of Rev. Wright's car. This caused quite a collision on the road. With multiple cars involved in the accident, people can imagine the traffic. Luckily, officials were able to arrive quickly and see to this accident. They decided to use some heavy duty traffic cones to try and relieve some of the traffic. This helped other drivers to navigate around the accident whilst they made sure all of the people involved were alright. Obviously, there were injuries, so an ambulance had to be called.
In the end, the driver traveling in the wrong direction died and the passenger (First Lady Betty Wright) died, as she was sitting in the front right passenger seat. Rest assured the guilty party will pay for this heinous act in a legal sense. A firm like CWA Injury Lawyers will do all they can to help justice be served in the courtroom for the grieving victims.
All were med-flown to Geisinger Hospital in Danville, PA.
Update from Sheilah Belle of the Belle Report:
"Currently, Rev. Timothy Wright is heavily sedated, has several broken bones BUT IS doing better and is currently in critical care. The grandson, 14 year old Daniel, is NOT brain dead, but was on life support and is also doing better."
From Tammy Taylor:
"Pastor Timothy Wright is in stable condition. He is aware of the people in his room. He's still on life support. His leg is broken in three places; they're preparing to take him into surgery on his leg."
TBGB will continue to post more information as it becomes available.