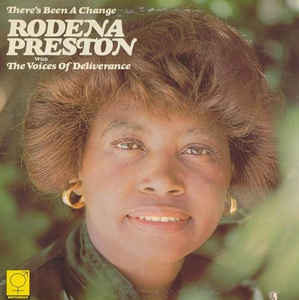 By Bob Marovich
JGM was saddened to learn from Gayle Lecus and others in Southern California today that Dr. Rodena Preston has transitioned from earthly labor to heavenly reward.
Rodena's music career was fostered by her mother, Mrs. Robbie Preston-Williams, who had her daughter playing piano at age three. By age nine, Rodena was accompanying the junior choir at the Victory Baptist Church in Los Angeles. Her brother, Billy Preston, went on to play the organ and achieve success as an organist and vocalist in both the gospel and pop music worlds.
Later, Rodena joined the Ladies of Song and was the director and musician for the Voices of Deliverance choir, a group she formed in the early 1970s out of the members of the young adult choir of the Church of Divine Guidance.
Preston was one of several at the table when the Reverend James Cleveland proposed his vision for the Gospel Music Workshop of America (GMWA). She served on the GMWA Board of Directors and as the Los Angeles chapter representative. She conducted classes and workshops at the annual conventions.  As coordinator of the National Mass Choir of the GMWA, Preston was responsible for receiving and approving new music by known and emerging songwriters for presentation at the convention.
On a local level, Rodena was the Minister of Music for the Second AME Church in Los Angeles.
In 2004, Preston received a Doctorate of Divinity from the Elbon Solutions School of Ministry. Two years later, she was inducted into the Gospel Music Hall Of Fame in Detroit, Michigan. JGM extends its condolences to Dr. Preston's family, friends, and many fans.  More information about her homegoing services will be provided when known.