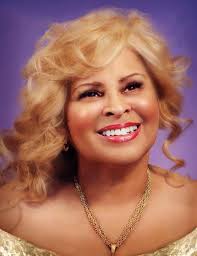 By Bob Marovich
Professor Robert Darden of the Black Gospel Music Restoration Project informed JGM of the passing of Edna Wright in Encino, California, yesterday, September 12. She was 76.
Prior to her well-known work with the vocal trio Honey Cone, where she was lead singer on the group's 1971 chart-topping hit, "Want Ads," Wright was a member of the COGICs, a mixed-voice gospel group formed by Andrae' Crouch. In addition to Wright, members of the COGICs included Crouch and his twin sister, Sandra, as well as Sondra "Heartaches" Williams and Gloria Jones (Jones would also go on to stardom as an R&B artist and songwriter).
In the mid-1960s, the COGICs were the first to record Crouch's classic "The Blood Will Never Lose its Power." The single was released on Richard Simpson's eponymous label and distributed by Vee Jay Records.
Wright went on to sing with Crouch on several other projects, notably Don't Give Up (1981) and Finally (1982). She joined Charles May and Annette May on their 1973 Gospel Truth album Songs Our Father Used to Sing. Wright was a background vocalist for the Righteous Brothers and U2, among others, and as Sandy Wynns, recorded soul singles "The Touch of Venus" (Champion 1964) and "I'll Give That to You" (Simco 1966), the latter co-produced by Simpson.
Wright also recorded a solo album, Oops Here I Go Again, in 1976.
Edna Wright's sister is singer-actress Darlene Love.
JGM extends its condolences to the family, friends, and many fans of Edna Wright.