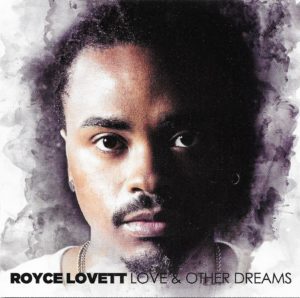 Royce Lovett
Love & Other Dreams
Motown Gospel (release date: July 14, 2017)
www.motowngospel.com
By Bob Marovich
Royce Lovett is one of the most distinctive voices on the Motown Gospel roster. Not surprisingly, his new album, Love & Other Dreams, is as artistically unpredictable as its creator.
The guitar-playing Tallahassee, Florida, singer-songwriter splashes a palette of neo-soul on coded messages about survival in modern society. The album feels like a somnambulant journey of a soul gasping, as if drowning, for the oxygen of freedom.
Where can lung-expanding oxygen be found?  Lovett answers on the album's hypnotic current single, "Up for Love:" it's in the clouds, where there are "no distractions" and a person can live at one with love.  I do not believe he means Heaven but rather sees clouds as a metaphor of liberation.
Towards that liberation Lovett wings his way; he is a weightless bird flying above the heaviness of life, where "it's too crowded."  In fact, being "fly," according to "Ballad," is not the physical manifestation of wealth but the capacity to overcome the aftermath of failure.
Lovett's own personal heaviness, perhaps one of the strongest anchors weighing him down, is expressed most acutely on "Sunday Morning (Thinking 'Bout You)."  Here he mourns the loss of an unidentified loved one whose asphyxiating absence is felt most strongly on God's day.  Meanwhile, on terra firma, Lovett is part of the resistance, battling sin and the magnetic pull to stray from good, all to the thudding march tempo of "Runnin'."
The six selections (a seventh is an acoustic version of "Up for Love") are introspective and dramatic, often unsettling in their honesty. "A Hero Song" is the album's most explicitly "gospel" selection. Here, Lovett cries out to God for help in melody and in a brief but impressive rap interlude. From what we've heard thus far on the album, his struggle is overwhelming.
Like Lauryn Hill's Man in the Fugees' "Killing Me Softly," "Mr. Radio" is an announcer who is oblivious at best, sadistic at worst. His same ol' same ol' playlist is a metaphor for the status quo and its endless stream of bad news. Changing the playlist by programming something "righteous," as Lovett recommends, leads to love. And if there is one constant on the album, it's that we need more love.
Like Andrae Crouch's perplexing "Lullaby of the Deceived," Love & Other Dreams complicates the traditional notion of sacred music by inferring rather than proclaiming the mental and physical agony of personal spiritual battles and the weightlessness of freedom from sin and suffering.
Four of Five Stars
Picks: "A Hero Song."